Take a walk through your local grocery store, Target, or even your favorite gas station. The countless goods that line the shelves were likely all made possible through a truck and a driver to haul them. From the bacon in the refrigerated section, to home goods, to medicines, to clothing, without trucks, nothing would travel hundreds or even thousands of miles to make it to store shelves.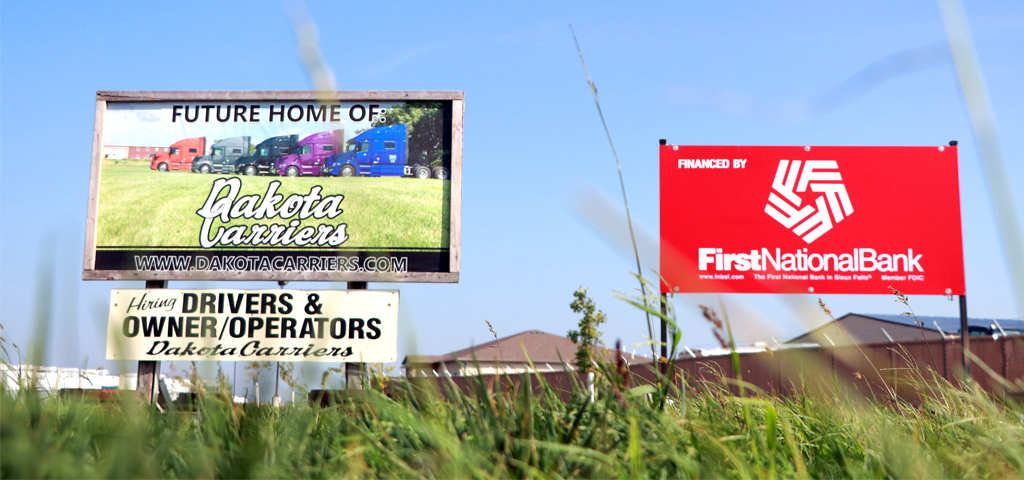 First National Bank understands the importance of trucking to our economy. That's why we've been the business banking partner for truckers and the transportation industry for over 40 years. With a unique understanding of the transportation industry, FNB is the local leader in financial services for truckers, trucking companies, and freight brokers.
Building successful relationships
Nestled in a corner lot just off Interstate 229, FNB's Benson Road branch is nicknamed "The Transportation Branch." This isn't just because it stands in an area dotted with industrial warehouses, truck and trailer dealerships, and truck repair shops, but it's because the
Benson Road location is known for providing specialty service to transportation industry customers.
Business Banker Russ Robers has served FNB's transportation industry customers for nearly 40 years, starting when he began his career at the Industrial Branch (which would eventually relocate to Benson Road). Since then, he's worked with some of the same customers he serves today. He's found that the relationships he's built have become more than just business: they've turned into friends and family.
"I've been working with some of these folks for 30 years, and they've become my friends," Robers said. "We socialize together, we fish together, and we hunt together."
Robers has found that the friendships he's made with customers have changed the way he thinks about trucking.
"I can tell you that stereotype that most people have is so far off," Robers said. "They're just hardworking businesspeople that happen to drive a truck for a living. They are some of the very best people I've ever met in my life."
Business Banking Administrative Assistant Susan VanDyk has worked with trucking customers at Benson Road for 20 years. She's also seen trucking business customers become more than just customers.
"To me, they're like family," VanDyk said. "My mom passed away in December, and I was just amazed at the outpouring from people with their expressions of sympathy at the funeral, because we are so connected. To work for a place where you feel that connection with customers means a lot."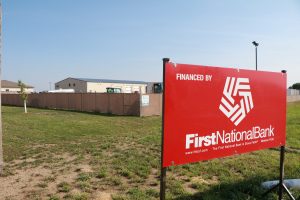 This relationships-first mentality is why FNB is the area's top financial services provider for the transportation industry.
"We don't know today who the successful people for tomorrow are going to be," Robers said. "The person who is willing to work with someone when they really need help is going to get rewarded with a long-term relationship, especially if they're successful. They're not going to forget that."
The FNB difference
It takes more than just First National's Business Bankers to serve the transportation industry clientele; it takes employees Bank-wide to provide excellent service to trucking customers.
"The entire Bank is very familiar with the trucking industry," Robers said. "We have a group of people that have been analyzing and helping bank trucks for years: the Credit department, loan committee, and the Business Banking team all know trucking."
The business banking needs for transportation customers are just like those of any other business. FNB offers services like equipment financing, facility building financing, credit cards, a mobile app, and even retirement accounts through First National Wealth Management for transportation industry customers.
"We can cater those products too," Business Banker Derek Simonsen said. "What a transport business would need depends on the size of their business. We bank everything from a person who owns their own truck, to companies that have over 100 trucks, and we have customers all over the state."
With this diverse customer base in an industry that's fast-paced and ever-changing, First National Bank offers extensive industry knowledge and a commitment to serving trucking customers at any time; something that other banks can't do.
"We have guys who come in here and say, 'My bank won't touch a truck loan,'" Simonsen said. "Our industry knowledge and the willingness to work with those customers really sets us apart."
For truckers, having a supportive bank can make a world of difference. Drivers are sometimes home for only two to three days at a time: creating a challenge to find time for their banking needs. First National Bank is always ready to help through knowledge, planning, and communication. Robers and Simonsen meet with their larger trucking business customers on a regular basis in an effort to anticipate loans they'll need, and then they work to get the loans approved before the customer actually needs them.
"We'll have customers that will call us and say, 'I bought a trailer an hour ago. I need money in an hour,'" Robers said. "They could send us that invoice right this moment and in an hour from now have loan documents ready for them if we've done all this work ahead of time."
Making an impact: "Trucks are the key to the economy"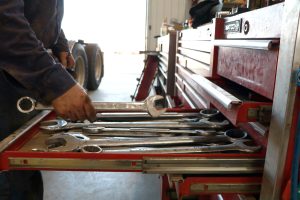 Dakota Carriers is a trucking operation within FNB's Business Banking clientele. Owner Tim Schenk has worked in the trucking industry for 25 years and has found great success through his relationship with First National, beginning in 2015 when he purchased Dakota Carriers.
"First National helped me combine two businesses (Schenk Trucking and Dakota Carriers), and they gave me a business plan to follow to make that work," Schenk said. "They understand the trucking industry from top to bottom. They're about the only people in town that do."
For truckers and the transportation industry, if the wheels aren't moving, there's no income coming in. That's why FNB is committed to helping truckers stay on the road by providing the banking services they need.
"If there are not trucks, we've all got problems," Robers said. "There's no other way to get things where they need to be. Trucks are the key to the economy."
Contact a member of FNB's Business Banking team to learn more about our services for transportation businesses.