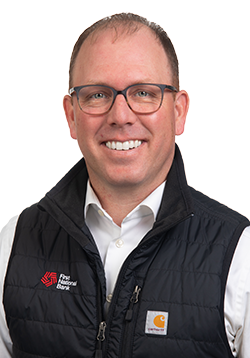 Brian Gilbert
Ag Banking Manager
When I was growing up, every day of my life I thought that I was going to be a farmer. If I wasn't outside helping my dad on the farm, I was inside playing with my toy tractors.
But when I was in high school, times were pretty tough financially on family farms in the area. My dad worked closely with his banker to get through the difficult times.
They were able to keep the farm running and profitable, and I realized maybe banking wasn't such a bad route to take. So, I studied ag business and economics at SDSU and minored in marketing.
For the first five years of my career, I worked in the finance department at a large cooperative, but when they closed their office in Sioux Falls to move to the Twin Cities, I found a job at First National Bank. I haven't looked back since — for 15 years, to be exact.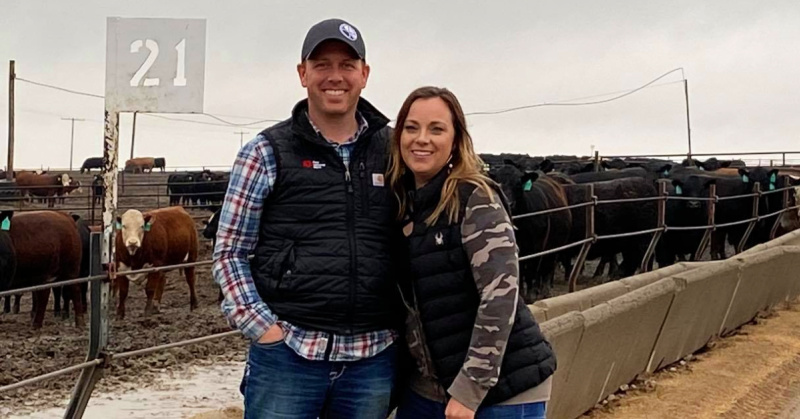 I still get back to the family farm to work cattle or help with harvest, even though they don't let me run any of the fun equipment. My brother is moving back to the farm, and I have a nephew and two cousins who help regularly alongside my mom and dad.
Our farm is, was, and hopefully always will be a family operation, but it was business decisions that put me where I am right now. Even though I thought I wanted to be on that farm, it is actually banking that keeps me connected to my roots.
And that's okay because I get to work with the most passionate people I know, day in and day out — the people that will go out in sleet, snow, or rain and grab a baby calf that's wet from its nose to its tail and take it to safety, dry it off, make sure it's fed, and treat it like their own child.
And ag producers aren't just working the bottom lines of their business. They're the CEO, the CFO, the Chief Manure Hauler, and everything in between. They're working from sunup to sundown on their production and then from sundown to late at night on everything else.
Family farms operate as family-owned businesses, but just like more traditional small businesses, the hardest thing for them to do is transition the farm to the next generation. That's where First National Bank, Jolene Brown, and the Cultivate Your Future event come in.
What it means to cultivate your future
For 12 years, the First National Ag Team has hosted its Cultivate Your Future event in Sioux Falls to provide ag producers with the tools and education they need to remain profitable for the long term. This year's event will feature speaker Jolene Brown.
Jolene is a nationally renowned speaker, succession planner, and champion for agriculture. Using her ag background, she speaks primarily to producers about succession planning and transitioning the farm to the next generation.
However, her presentation "The Positives of Passing It On" is not limited to ag producers. This interactive workshop will use lessons from successful business leaders to teach attendees how to honor their family while transitioning their business to the next generation.
We want any ag producer or family business owner in the area to attend so we can equip them with the tools to succeed for years to come. And you don't have to be a First National Bank customer either!
I have seen Jolene speak, and she is great at cutting through the emotional parts of succession planning and bringing people to the table to formulate a plan. She will speak for an hour and a half and then ask questions to a panel of expert advisors: Don Rahn, Wealth Advisory Manager with First National Wealth Management; Heath Kooiman, partner at the Woltman Group; and Todd Wilkinson, partner at Wilkinson & Schumacher Law in DeSmet, SD.
This year's event will be held on February 24 in The Alliance at 1600 W Russel St. For a full schedule and how to RSVP, see below:
This event is just one of the ways that we at The First National Bank in Sioux Falls advocate for the ag industry and help ag producers and local businesses cultivate their future.
I am on the South Dakota Cattleman's Foundation Board of Directors, which hosts the annual South Dakota Cattleman's Prime Time Gala. This group and its generous donors have donated over $1.8 million to Feeding South Dakota in the first eight years of that event and are hosting the ninth annual Prime Time Gala on June 18, 2022.
We also take a team of volunteers to the Sioux Empire Livestock Show and the Chamber of Commerce's Ag Appreciation Day each year.
Behind the scenes, my team is regularly helping ag producers any way we can. I would say that everyone on my team has been in a piece of equipment at some point over the last couple of harvests and planting seasons. We take lunches to hundreds of ag producers during harvest to alleviate some pressure, as well as give farmers rides to the next field. We've even helped farmers calve out cows during a blizzard!
Selfishly, doing those things is way more fun for us than being in the office because we're all farm kids. But it's also a way for us to build relationships with ag producers and their businesses so that we can help them succeed.
Our community involvement is focused on events that have a huge economic impact on Sioux Falls and the surrounding communities, as well as highlight the ag industry and what our farmers are doing to help feed the world. Our annual Cultivate Your Future event is just one more thing we can do to accomplish that. Plus, we love to see our ag producers and local business owners all in one place so we can learn and grow together.
If you would like to attend the Cultivate Your Future event on February 24, call (605) 335-2927 to RSVP by February 10. We hope to see you there!