For most people, cleaning a vehicle probably doesn't extend much beyond vacuuming, wiping down the surfaces, and a wash.
But, Patrick Golay isn't most people.
He and his team at Reflection Detail give whatever drives into their shop a complete overhaul. From Corvettes to semis to payloaders, everything from the inside to the outside is cleaned and polished perfectly, even better than new. They spend hours on every painstaking detail: removing all the grease on a semi motor to painting individual bolts on a piece of ag equipment.
While there's no doubt that Golay is exceptionally talented, he never dreamed he'd own a commercial building, and especially not one within a few thousand feet of his major customers: truck dealerships.
That all changed in early 2021 when two bankers walked into the shop he'd been renting.
Where it all began
To understand how he got to that point, Golay says you have to hear his story from the beginning, which starts in Rapid City.
In 1999, he bought a 5-foot by 8-foot trailer for racing motocross. After breaking his leg, he decided to chart a different path.
"I decided, you know, I'm going to make money out of this trailer besides spend money out of it, because that's what I was doing," he recalled. "So, after my leg healed, I started a mobile wash is what it was, basically. I started washing car lots. We were doing 300 cars every Friday. So, that's where it started."
Eventually, Kim Wheeler, owner of 18 Wheeler Truck and Trailer in Rapid City, noticed his work and introduced him to the world of semi detailing. Because detailing semis involves polishing stainless steel and aluminum – an extremely difficult and dangerous task, which Golay compares to 'polishing rock' – it would require a special trip east river to Sioux Falls to learn from a professional.
"I came out here to Kenworth – Kim Wheeler sent me out here to a guy who's like really good at polishing," he said. "I had just gotten into this deal. He gave me kind of a hands-on, 101… gave me like five hours of his time, and then said, 'See ya later. Don't call me, don't bother me. This is all the secrets I'm gonna give you, because this is a craft, it is an art, it is extremely difficult, you probably won't last.' He had no idea the fire in me."
During that visit to Sioux Falls, Golay realized the city's unique geographic location at the intersection of I-29 and I-90. Even after he left, he kept thinking about the sheer volume of truck dealers and trucking companies in the area near the interchange of the two interstates. It eventually made him decide to move to Sioux Falls in 2005, where he operated as a mobile semi detailing business until 2007, when he started renting a building on Benson Road.
"And then I started picking up – I picked up North Central International, I picked up I-State (which was Holcomb Freightliner at the time), I picked up Vander Haag's. We picked up I-90 Truck Center… the list is long. We were basically a dealer-based business."
Another one of those customers was Pete Bonenberger, who owned Big Trucks Inc., a truck and trailer dealership. After Pete passed away in 2013, the business and the building (located west of Cliff Ave. on N. 60th St.) was left to Pete's son, Don, who eventually transitioned it from a truck dealership to a car mechanic shop. As a result, he didn't have a need for the whole back of the building.
"The whole back [of the shop] was all semi-related, and he didn't need the space," Golay explained. "So, he gave it to me. He let me in here for two grand a month."
That's where he ran the business until early in 2021 when developers from North Dakota expressed interest in purchasing the entire facility.
"My heart went… what am I going to do?" Golay recalled. "My two bankers, Russ [Robers] and Derek [Simonsen], came in here. They started walking around, and they're like, 'Show us around.' I'm like, 'What are you guys doing here?'"
The two bankers had already learned that the building was for sale.
"Hey, have you ever thought about buying the building?" Simonsen asked. "We maybe caught wind that this is for sale."
"Don had just mentioned to me that he's going to sell this place," Golay said. "I guess I hadn't even finished that swallow yet, because it's been long and hard. I don't know what I'm gonna do. I'm in a prime location for what we do, right off Cliff Avenue. Trucking central. I'm just like, if I move, it's going to be detrimental."
Because First National is a preferred lender with the U.S. Small Business Administration (SBA), Robers and Simonsen knew that an SBA 504 loan would be the perfect way for Golay to give his business a permanent home.
SBA 504 Loan
"I went in and I talked with them, and we started this process of paperwork and digging into my files and all of my stuff, and finding out what we're worth and what's going on and if I can do this or not," Golay said.
The SBA's 504 loan program offers a collaborative loan financing structure: 50 percent by a lender, 40 percent by the SBA, and 10 percent by the borrower. Dakota BUSINESS Finance is an SBA-certified development company that assists with financing 504 loans.
"The low down payment allows the borrower to preserve the business cash for working capital needs," Lynne Keller Forbes, executive director of Dakota BUSINESS Finance, said. "The SBA 504 loan program is different from typical bank financing in that it typically requires less down payment from the business, and the SBA portion of the loan is fixed for the life of the loan, so there will not be a rate increase if the market changes in the future."
After compiling the necessary documentation and presenting the loan request to the SBA, Golay's 504 Loan was approved.
"I was like you've got to be kidding me," he said. "I don't sell myself short, but for me to buy a $1.2 million building… with the business that I have… detail shops just don't… they don't… they don't have it."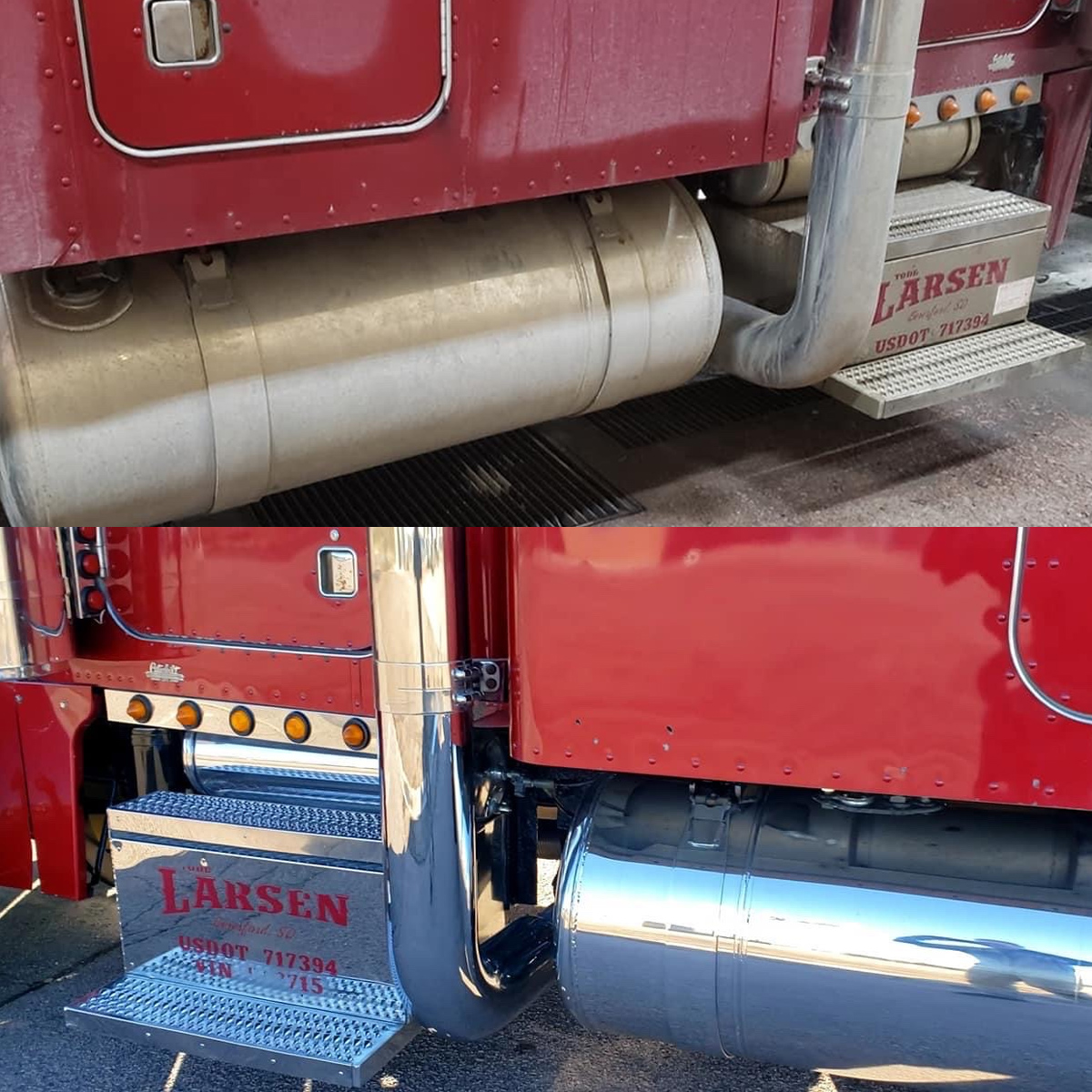 Today, Reflection Detail has nine employees, and Golay says his business has done nothing but grow since receiving his 504 loan. Their services include detailing cars inside and out, complete paint correction, ceramic coating, resurface and polish aluminum and stainless steel, and paint frames. "Basically [we] are just a complete turnkey overhaul shop."
"2020 was one of the biggest years I've ever had," he said. "The first six months of this year, I'm up 40 percent. I have done 39 more complete units this year to date than I did last year."
He credits this growth to marketing his business through his Facebook page, but also the quality of his team's work. They spend, on average, ranging from 25 to even hundreds of hours detailing each semi inside and out.
"There's not a lot of guys that put that passion into it like I do," Golay said. "There's not a lot of guys that lay in bed that think about ways to be better, ways to provide more, like I do."
For the Business Banking team at First National, there's nothing more rewarding than helping ambitious small business owners like Golay. Through their partnership with Dakota BUSINESS Finance, they've worked together to obtain approval on 29 loans totaling over $28 million since 2006.
"Small business owners are some of the most passionate people out there," FNB Business Banking Manager Jeremy Keckler said. "It makes being their financial partner really fun and rewarding, and one of the things we love most as a bank."
Whether your business is still in the "dream" phase or you're ready to take the next step, contact FNB's Business Banking team to see how they can help.