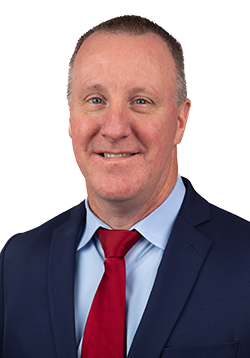 Don Rahn
Wealth Advisory Manager
The euphoria of a market run. The sinking feeling of a decline. They can lead to emotional decisions that can then require years of recovery. But when you have a trusted advisor working on your behalf, those costly decisions become far less likely.
The First National Bank in Sioux Falls recently began offering financial planning with its Wealth Management department to help provide more comprehensive wealth management services. The Wealth Advisory department is part of the personal wealth division.
"This service enhances our planning capabilities and provides us the opportunity to attract and service large individual investors who desire in-depth financial planning to augment their investment management needs," said Adam Cox, Executive Vice President and Chief Wealth Management Officer.
The Wealth Advisory division is led by Don Rahn, CERTIFIED FINANCIAL PLANNER®, who previously worked within First National Wealth Management before moving to Iowa with his family six years ago. He said he is thrilled to be back with FNB and has hit the ground running.
"I am glad to be back with The First National Bank in Sioux Falls and to have this opportunity to help our clients plan for their financial future," Rahn said. "I chose the financial planning profession for my career because I truly enjoy helping people discern their goals and make well-informed decisions with their financial resources."
Life happens, and when you have an event that changes your personal finances, First National Wealth Management is here to guide clients, he said.
"From retirements, to inheritance, to the sale of a business, we'll help with any questions you have about how to invest and spend your assets in a prudent manner leading up to, and after, this life change. Success starts with strong relationships. The better we understand you, the better we understand your goals."
The Wealth Management team has one goal: our clients' financial futures. 
"Using sophisticated planning technology, we are able to help clients build detailed balance sheets, consolidate investment accounts, model spending strategies, and help them structure their investments in order that they may achieve the financial freedom they desire," Cox said. "This service is available for clients with at least $500,000 to invest with us. As fiduciaries, we're legally bound to put your interests ahead of ours. And with our planning cycle, you'll have confidence in making decisions about your money."
For more than 100 years, individuals have entrusted The First National Bank in Sioux Falls to help them meet their investment and legacy needs. If you have any questions at all, send us a note.