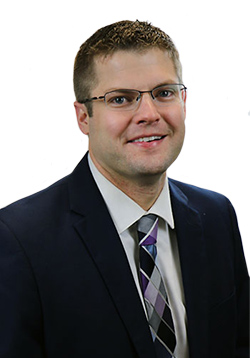 Seth Peterson
Internal Audit Manager
The month of May is often spent celebrating Mother's Day, Memorial Day, and usually high school and college graduations. But did you know that May is also viewed as International Internal Audit Awareness month? Along with more than 200,000 global members of The Institute of Internal Auditors (IIA), we celebrate the profession and promote the value we bring to organizations.
Our primary mission is to enhance and protect organizational value by providing risk-based and objective assurance, advice, and insight. Nearly everything we do centers around protecting the Bank and allowing its employees to provide our customers the best possible service.
You may not have known it was Audit Awareness month, but there is a good chance you've interacted with an internal auditor at some point in your life. In order to know how we can help you as a customer of our bank, we've broken it down so you can better understand what we do.
Who Are We?
Internal Auditors work behind the scenes to make sure the Bank is as strong it can be, so your money is secure at all times. Our experience, education, and relationships provide us the foundation to carry out this responsibility.
Experience – Our internal audit team has more 78 years in audit experience. While risks are constantly evolving, with ¾ a century of experience, there aren't many situations we haven't seen. This gives us the perspective to ensure management stays on top of risks and protects your interests.
Education – To stay on top of emerging risks, our internal audit department actively seeks out training to ensure we are equipped to face whatever challenges come our way. Our staff demonstrates its proficiency and commitment to the organization by obtaining a total of 16 certifications and qualifications such as Certified Internal Auditor, Certification in Risk Management Assurance, Qualification in Internal Audit Leadership, Certified Public Accountant, Certified Information Systems Auditor, Certified Fiduciary and Investment Risk Specialist, and Certified Bank Auditor. In fact, we are one of South Dakota's largest employers of CIAs, the premier, globally recognized certification.
Relationships – Our Bank is built on successful relationships, and our audit department is no different. We work every day to grow our relationships built on trust and integrity. These relationships help us to work collaboratively to ensure both the Bank and our customers are both protected. Tone at the top is critical to the success of any internal audit department. The tone at the top is exhibited daily by the fact most of the family owners of the Bank have worked in the internal audit department in some part of his or her career. This attention to audit and risk management permeates throughout the organization.
What Do We Do?
While some of the processes we audit may be complex, the tools and techniques we use to carry out our responsibilities are not. In fact, we bring a systematic disciplined approach to evaluate and improve the effectiveness of risk management, control, and governance. These lofty goals are accomplished by carrying out three common tasks:
Assessment – Through research and continuous, proactive discussions with management, we keep a pulse on the current and emerging risk environment. This allows us to assess risk and target our efforts for maximum effectiveness at the Bank. This offers our customers peace of mind that their money is safe.
Evaluation – We design our programs to provide assurance strategic objectives that can be achieved through the risk management processes implemented by management. We evaluate the processes in place by interviewing employees, requesting documentation, reviewing reports and work products, and performing independent analysis.
Communication – The most critical aspect of our work is the communication of results. This is where the "rubber meets the road," so to speak. Recommendations built on fact and benefit help management continue to evolve and provide the best possible service to our customers.
Rest assured, as auditors, we have your best interests in mind. The Bank has created an incredible culture rooted in risk management, transparency, and communication. All of which support the success of our department and organization as a whole. Please join us this month as we celebrate International Internal Audit Awareness Month. As customers, you play a part in everything we do, and we want to celebrate with you.