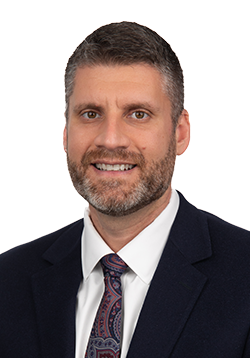 Adam Cox
Host of Common Cents on the Prairie™
When you watch the news, read the headlines, or scroll social media, anything related to the financial sector can seem like an absolute rollercoaster. From low interest rates, volatility in the stock market, or even the current housing market, people are constantly analyzing what's going on and trying to predict what's going to happen next.
But if you take the advice of Paul Lehman, the head of the Bank/Trust Group at Dimensional Fund Advisors, you'll learn that there's a difference between news and noise, and that no one can really predict anything. On our latest episode of Common Cents on the Prairie™, we sat down for an in-depth conversation with Paul, and he shared what you can do to have the peace of mind that you're on the right track for a secure financial future.
You can read a recap of our conversation below, watch the entire episode, or find Common Cents on the Prairie™ wherever you stream your podcasts.
Are we at a market top?
After the 'COVID crash' in March 2020, many investors feared no end in sight for plunging prices as reality of prolonged lockdowns set in. With the S&P 500 Index up over 95% including dividends since March 23, 2020, many are confused why the market is as high as it is right now and wonder if we're in a bubble. In other words, the market has performed so well for so long, they think it's destined to crash.
One thing that's led to this speculation is the current housing market. The spike in home prices right now reminds some of 2007 and 2008 when demand for homes reached record levels, causing major surges in prices. We all know now that these high prices were not sustainable for the homebuyers (or many lenders), which led to the crash of the housing market that sent ripples throughout the entire economy, leading to the Great Recession.
There are definite differences between what happened then and what's going on now, which just goes to show you that predicting what markets will do is a fool's errand.
"The notion of trying to understand where the market is going to go next is almost impossible," Paul said. "It's because the market is so good at processing new information, which makes trying to predict what's going to happen tomorrow or what's coming around the corner impossible to do."
What should we do about the low interest rates?
Another hot topic is low interest rates. Short-term interest rates are influenced by the Federal Open Market Committee (FOMC). They were lowered in response to fears about the economic impact of the COVID-19 pandemic. Low interest rates are great when you're borrowing (which is part of the reason why the housing market is behaving like it is). On the other hand, they're not as great when you're trying to take advantage of compounding interest in a savings account or CD.
As part of a well-rounded investment portfolio, we usually recommend some portion to be set aside as 'safe money.' This money is there to serve as cash when you need it, but it can be frustrating if it's not earning anything extra, like many people are experiencing right now due to the low interest rates.
"The part of your money that is meant to be there when you need it should be treated very differently than the part that is there to grow," Paul said. "Hold your nose at the low interest rates and just remember that it's there for a very particular reason; it has a very particular role in an investment portfolio. Often times, in addition to being there when you need it, the other role is to offset the volatility that we often see in the stock market, on the stock side of the portfolio."
What about cryptocurrency?
Depending on where you're at on the finance scene, you may know a lot about cryptocurrency or you may know very little. Cryptocurrency is a form of digital currency that involves a computer technology called blockchain. You can do your own research on how it works, but there are some cryptocurrencies that have made headlines lately, like Bitcoin and Dogecoin. Following Paul's advice, it's likely another case of knowing the difference between news and noise.
"There's a lot of pure speculation going on," Paul said. "When asked if Bitcoin is in a bubble, David Booth, founder of Dimensional, said, 'it doesn't have anything on which you can value it. There's no future earnings stream that you can look at and then compare it to whatever fundamentals you want: price, the value of the company, or anything like that.' It doesn't have anything that you can sort of evaluate its long-term worth. Which means – almost by definition – we're just speculating that that's going to be 'the one'."
Separating news from noise
With the rollercoaster of a year we've had, it can be hard to be sure that what you're doing is the right thing when it comes to your finances. Paul's advice? Turn off the TV and work with a financial advisor. Their job is to give you the peace of mind that you're on the right track, but also help you connect the dots in your overall financial wellbeing: from life insurance to changing tax laws.
Our team at First National Wealth Management is passionate about helping people navigate their finances in a world that's always changing. To start an initial conversation with us, send us a note through our website. We'd love to work with you.
Any comments, insights, or strategies discussed in this article are intended to be general in nature and, therefore, may not be suitable for you and your situation, whatever that may be. Before acting on anything written here, please consult with your attorney, CPA, and/or your financial advisor.