A month before her retirement from First National Bank, Julie Choudek was filled with anticipation, joy, and nostalgia as she reminisced on her career with the local bank.
"I'm looking forward to retirement, but I will miss a lot of things here," Choudek said. "There are great people here. There are great relationships. It's been my second home for 26 years."
Choudek, who joined the Bank as a Business Banker in 1997, has served as Chief Credit Officer since 2010.
Over the years, she has cemented her legacy as a strong leader in times of stress, a mentor to many, and a relationship builder down to her core.
"Julie has been an anchor for the Bank over the past 26 years," said Chris Ekstrum, President and CEO of First National Bank. "I cannot overstate the positive impact she has had on First National and our teammates and customers. She is a steady leader, a hardworking employee, and a kind and caring person, and we will miss her greatly."
Like a fish to water
"I was first exposed to credit analysis in college, when I had an internship at Cenex up in Saint Paul," Choudek said. "And it was kind of like a fish to water."
After graduating from college, Choudek continued her work at Cenex loaning money to co-ops.
"I got into banking without working in banking directly," Choudek said. "Then, I fell in love."
No, not with banking — with her now husband. It was a whirlwind romance, and the couple were married within a year.
"He was in the Air Force, so we moved to Arizona," Choudek said. "When we started having a family, we wanted to get back to the Midwest. So, we put a dart in the map and landed in Sioux Falls."
She worked for another banking organization before joining First National Bank, and in the meantime, she got to know now-Chairman Bill Baker.
"I was active in a local organization of which Bill Baker was the president," Choudek said. "My first real exposure to Bill was a four-hour tour of John Morrell, now known as Smithfield. We saw everything from bacon curing to hot dog making to the kill floor."
Choudek was impressed by the Baker family's reputation in Sioux Falls and commitment to the community, and she joined the Bank in 1997 as a Business Banker.
"Best thing ever," Choudek said with a smile.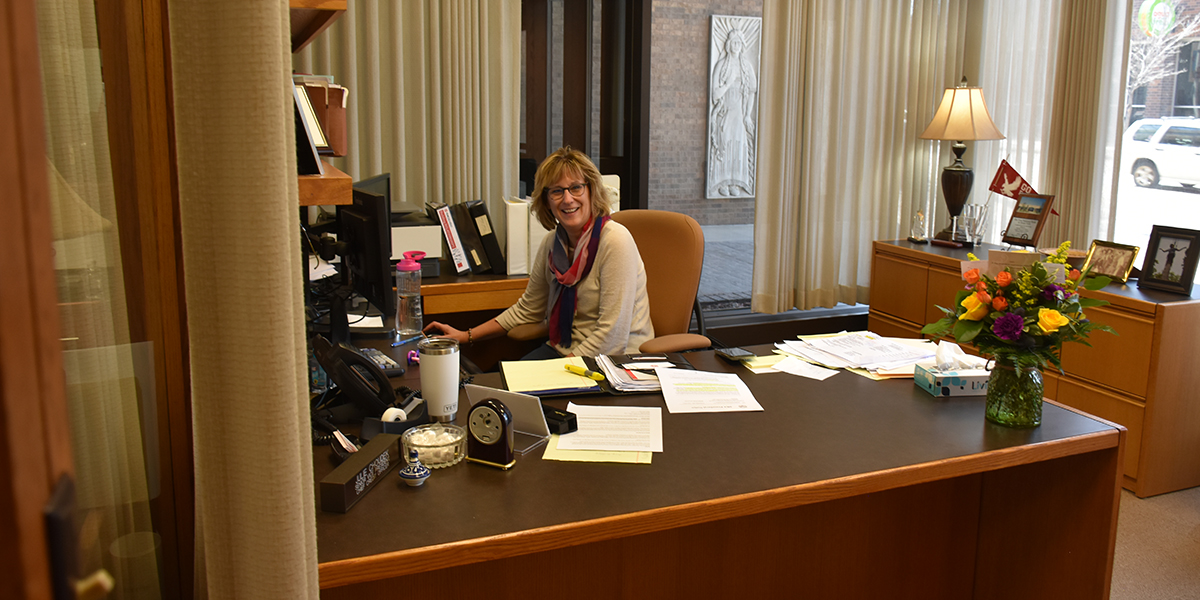 The memories that make a career
"Touching the roof of the Cathedral is probably one of the highlights of my career," Choudek said. "There were seven stories of scaffolding, and Bill Baker and I got to touch the roof. Saint Peter was right there, and he is life size."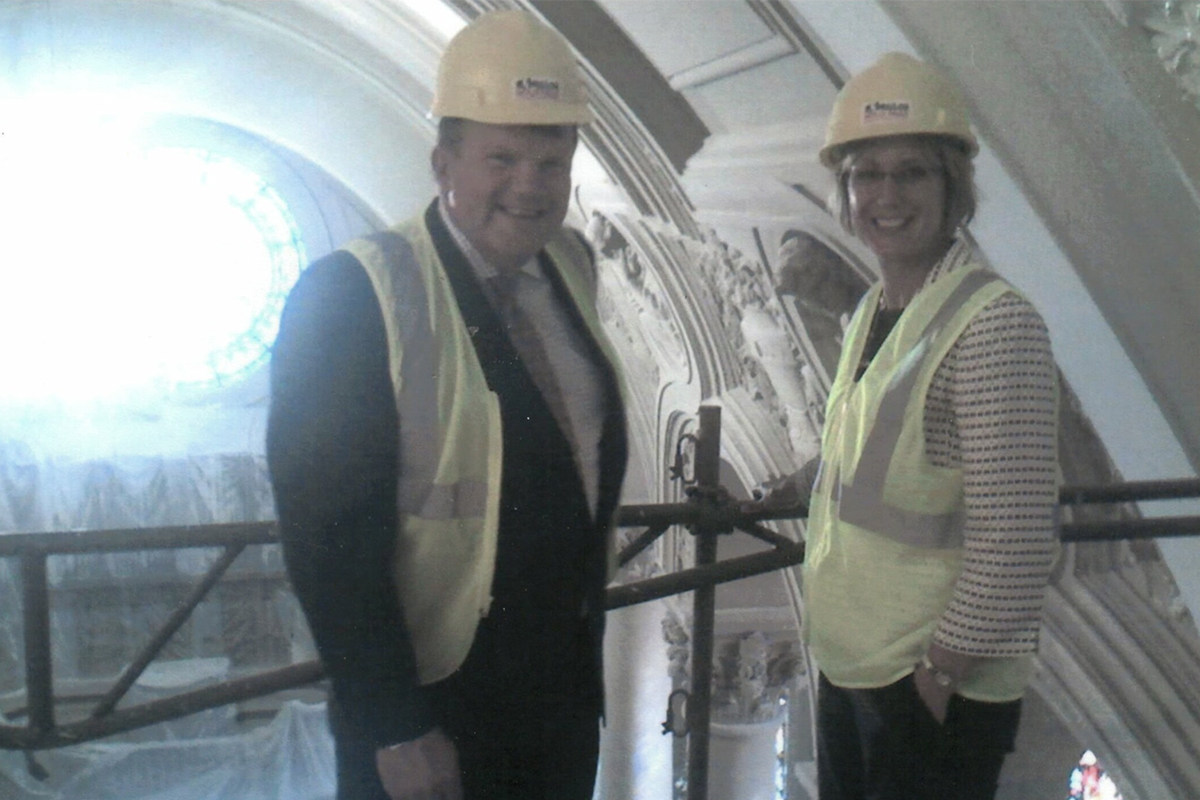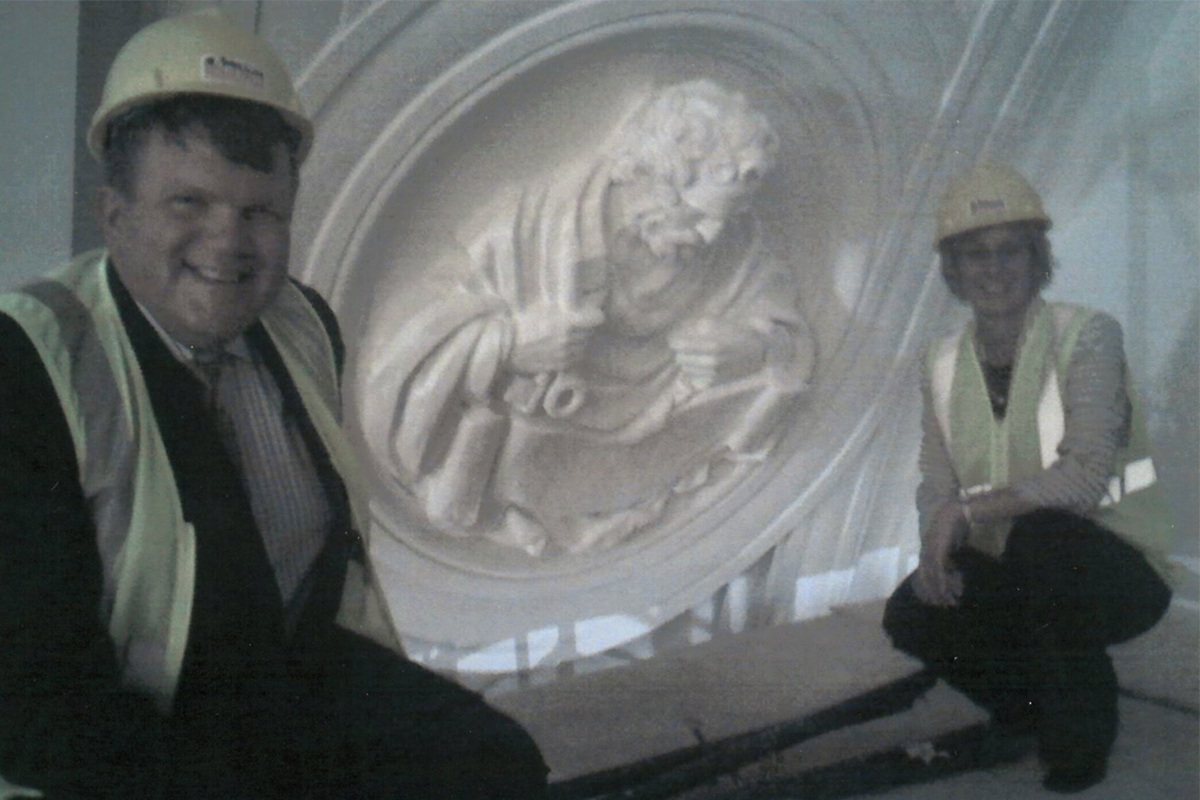 When you work in a role as demanding as Choudek's, you're bound to leave with plenty of memories, both good — like touching the roof of the Cathedral — and stressful.
But as she reminisced and laughed over some of her fondest memories at the Bank, it was clear that the most important thing to Choudek was the people in those memories.
She recalls walking down to the corner store every day with Jill Mockler, Business Banking Team Lead, to get a drink from the soda fountain and "just talk and laugh."
She thinks about Mary Jo Benson, a former FNB employee with whom she fostered "an incredibly close working relationship" as they developed new information, systems, and reports for the Bank together.
She recounts the high-stress environment brought on by the Paycheck Protection Program (PPP), in which teammates from all areas of the Bank came together under uncertain circumstances to help small businesses through the pandemic.
"We were at our absolute best when bringing our talents together to solve problems," Choudek said. "Some of my best memories involve times of high stress, because those are the moments when you appreciate the quality of those around you, and lasting relationships are formed."
These are also the times when the Bank's FIRST Values shine the brightest.
"'We know it is important to do things right, but it is more important to do the right thing,'" Choudek said, quoting our Relationships value. "That's what helps us approach challenges and solve problems together."
Leaving behind a legacy
"One of my professional highlights is the role I played in helping the Bank have a successful PPP loan process and portfolio," Choudek said. "I didn't do much or any of the hard lifting, but I tried to create a framework for others so they could realize their potential to fly, and boy did they ever; they soared."
Thanks to the hard work and long hours teammates from across the Bank dedicated to PPP, First National was one of the leaders in Sioux Falls for PPP loans and was able to develop stronger relationships with customers in those uncertain times.
"The journey that Julie led us on through the uncertainties of PPP is definitely one of my best career moments with her," said Jeremy Keckler, Business Banking Manager. "Julie provided clarity, a vision, dedication, and strong leadership throughout the process, and she worked collaboratively across departments to achieve success."
And just as Choudek has proven her leadership prowess in times of high stress, she has long been a mentor to others day in and day out.
"I couldn't have asked for a better mentor than Julie," Mockler said. "But she was so much more than a mentor. She became my very close friend and someone I turned to not just about banking, but about life. I will miss sitting down and solving the world's problems with her over a pop."
For Choudek, the opportunity to mentor others and build these lasting relationships has been the biggest accomplishment of her career.
"I did establish a lot of processes and reports and structure for us to be able to grow the Bank; however, those things will come and go," Choudek said. "Ultimately, my greatest accomplishment is that I feel like I have helped several people realize their professional potential. The processes will change, but the people and the potential they realized, that's what's really lasting."
Keckler, who is one of the many people Choudek helped to realize their potential, agrees.
"Julie has become one of my good friends within the organization, and I've loved working with her over the years," Keckler said. "She is so smart and hardworking, and she understands the 'people' side of banking more than anyone I know. I'm truly going to miss her as a mentor and as a person."
Life after FNB
"I was talking to someone about 'retired,'" Choudek said, "and he said, 'I never say I'm retired. I say I'm reengaged. I'm reenergized. I'm repurposed.'"
Ahead of her retirement at the end of the month, Choudek is looking forward to whatever the next chapter in life holds.
Page one: take the summer off and spend time at the lake in Minnesota.
While the rest of the pages remain blank, Choudek has a few ideas of how to fill them in.
"We like to play golf and pickleball and have time for reading. In the winter, we like to go snowshoeing," Choudek said. "And most importantly, I have a daughter and son-in-law in the Twin Cities area, and I have a granddaughter who's 1 year old. I look forward to going up there to help them out in the middle of the week, if we so desire."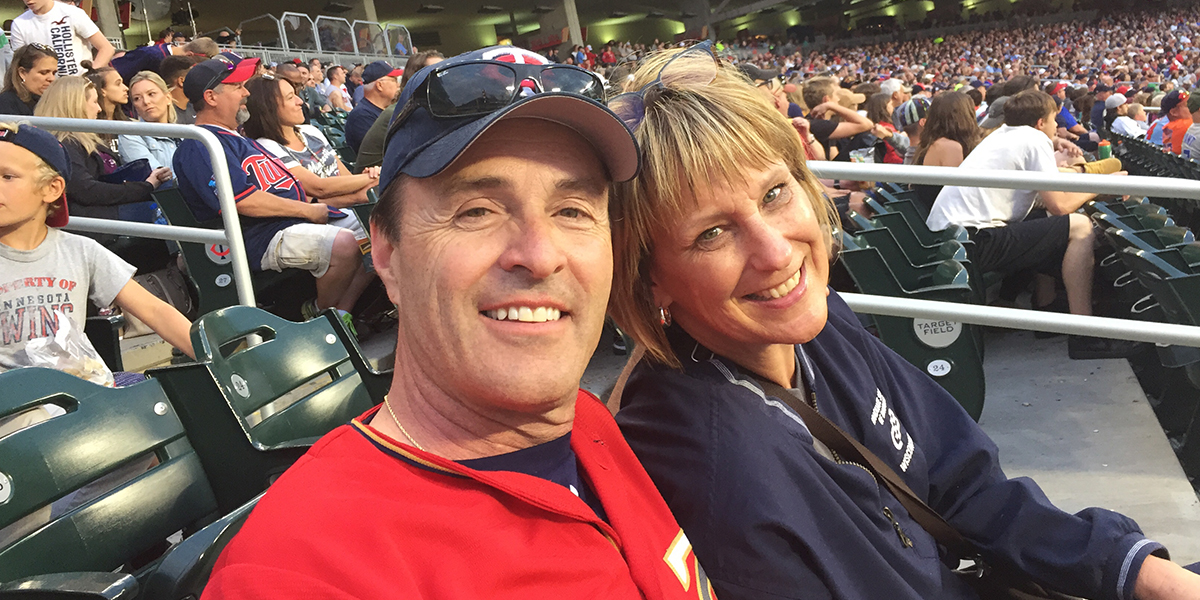 Long term, Choudek plans to continue prioritizing stewardship in her life, whether that be continuing her role as a mentor at Lutheran Social Services or volunteering to help kids read at school.
Whatever comes next for Choudek, we can only hope that it's as fulfilling as her time at First National Bank has been.
"The thing I've enjoyed the most about working at First National is the ability to make a difference in a very supportive environment," Choudek said. "They do call it work for a reason, but it's been a good ride, and I'll miss a lot of it. It's been very rewarding, and I've truly been blessed."
You're invited to celebrate Julie Choudek's retirement with us! We will be hosting an open house on Thursday, April 27, from 4:00 to 6:00 p.m. at our Downtown branch, 100 South Phillips Avenue.