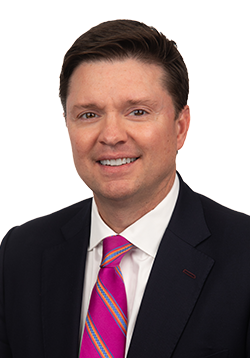 Chris Ekstrum
President and CEO
While 2020 was a crazy year, our teammates worked hard to find new ways to make banking easier and better for you. Here's a look at a few of the things we did last year.
Online account opening
During the months when people were living, learning, and working at home, we thought it'd be a great time to make it even easier to open a personal checking or savings account with a new online account opening platform. Now, you can open and fund a checking or savings account anytime, anywhere. It's safe, efficient, and lets you handle your finances when and where it's convenient for you.
New look for statements
Out with the old and in with color! Monthly statements for checking and savings accounts received a fresh, new look. The new statements allow for you to easily view your account activity, see alerts and special offers, and find contact information quickly. You can still see all of the same information on the new statements, and we think you'll love the streamlined look!
The Paycheck Protection Program (PPP)
As businesses faced dire circumstances due to COVID-19, we were proud to be one of the leaders in Sioux Falls for Paycheck Protection Program (PPP) loans. In 2020, FNB made more than $100 million in PPP loans to small businesses, and we're gearing up for another round of funding once again. As we worked long hours and late nights to deliver relief for our customers, we were reminded that we've navigated uncertain times like these since 1885, and that's exactly what we'll continue to do.
Declaring a strategic commitment to wellbeing
At the beginning of each new year, many businesses and companies around the world seek to reach new heights and make more money, putting more stress on their workforce by demanding higher performance. That's not exactly the case for The First National Bank in Sioux Falls. In early 2020, we declared a strategic commitment to invest in our teammates and customers by creating a Culture of Wellbeing.
Downtown branch makeover
We shared in October 2019 that we were beginning some updates to the exterior of our main office building in Downtown Sioux Falls. Our building is changing, but the work we do inside – like bringing our customers innovative financial services – will stay the same. We are in full swing with construction and new things are happening each day! Take a look at our plans and updates in our Downtown Branch Construction Updates blog post.
Common Cents on the Prairie Podcast
The financial services industry is filled with misinformation because sadly, a misinformed client is a profitable client. But that's not what our Wealth Management team is about. In 2020, we launched our podcast, Common Cents on the Prairie, to help people learn about how they can do more with their money and reach their financial goals. Find it on our website or wherever you stream your podcasts!
Volunteering
As a locally owned, community bank, we've always believed that the success of our communities comes first. In fact, Stewardship is one of our FIRST Values. Each year, teammates can use up to 12 hours of Volunteer Time Off (VTO) to volunteer within our communities. This year, volunteering was a little tricky due to COVID-19, but that didn't stop us. We teamed up with Feeding South Dakota to pack almost 700 back packs of food for kids. We also participated in several Red Cross blood drives, as well as one of our annual favorite volunteer events, Active Generations' Rake the Town, to rake leaves for individuals over the age of 60 who are physically or financially unable to rake their leaves themselves.
Charitable giving and sponsorships
Since 2013, we've given a total of $70,000 to local non-profits through #FNBGiveFirst. This year, we added another $10,000 to that number. Our bracket-based competition resulted in the four winners for 2020: Active Generations, Special Olympics of South Dakota, The Sioux Falls Area Humane Society, and The Bishop Dudley Hospitality House.
Once again, we partnered with the South Dakota Bankers Foundation to give away five $1,000 scholarships. The application process involved creating a video showcasing their passion. Meet our 2020 winners, and stay tuned to our website and social media for the announcement of the 2021 scholarship application.
Our United Way fundraising came to an end in November. Bank teammates enjoyed a homecoming-themed campaign, complete with dress up days, a cheer competition, and an FNB Homecoming Court. We raised $119,211.40 through employee contributions, and donated a total of $238,422.80 with the Bank's Matching Gift Program!
We also love sponsoring events that enrich our communities. This year, while some events were canceled or held virtually, we were still able to sponsor and safely take part in the Sanford International Golf Tournament, the Dakota Alliance Soccer Club First National Fall Kickoff Soccer Tournament, One Million Cups, and many others.
What's next?
Even though 2020 was a challenging year, our 135-year history has given us a firm foundation in who we are as a local, community bank committed to our mission and our values. As we continue to live out our values and carry out our mission, we will also work hard to bring you new technology, new services, and find new ways to invest in our communities.
In the coming weeks and months, we'll be unveiling lots of fun new services and features! One thing you'll especially want to keep an eye out for is our brand new rewards checking account program. We'll also be sharing a new way to transfer money between your FNB account and your account(s) at another financial institution. If you've been wanting a new debit card, you'll be happy to learn that we're nearly ready to launch a newly designed debit card gallery. In addition, if you stop by the Bank to open a new account or just need a replacement card, you'll soon be able to get a temporary debit card printed right at your banker's desk! We've always prioritized keeping you in the know and serving you, so we're also excited for some updates to our alerts system and also the launch of our after-hours customer service. Follow us on social media so you never miss FNB news and info!