As a local Bank, we have been committed to serving our communities in good times and bad for 135 years. Part of that commitment includes supporting and championing local non-profits. As a result of COVID-19, more people than ever are in need of the help and services that non-profit organizations provide.
Since 2013, we've given a total of $70,000 to local non-profits through #FNBGiveFirst. This year, we're adding another $10,000 to that number.
From bringing hot meals to elderly individuals, being a safe place for the homeless, offering pets a second chance at a forever home, or providing opportunities for those with intellectual disabilities, we're excited to award four local non-profits with $2,500 each as part of our annual #FNBGiveFirst initiative.
Community members nominated their favorite local non-profits from August 31 through September 14 on our website. Then, from September 16 to October 7, we held a weekly bracket-based voting competition. The non-profits with the most votes each week moved forward until only four remained, with each organization receiving $2,500.
We are thankful to all of the area non-profits that share our mission of making our communities better places to live. It's the work they do each day that makes a difference for so many. We are honored to give back to four of these wonderful non-profit organizations. Learn more about them below.
Active Generations
Active Generations
promotes positive aging for adults and enhances the quality of life for all generations through programs, services, and education. They offer a fitness center, meal delivery, and so much more, impacting more than 5,000 adults each year. Thanks to the $2,500 gift from FNB, Active Generations can continue to carry out their mission and serve this important sector of our population.
"Active Generations is thankful to be chosen as one of the final four non-profit organizations to receive funds from First National Bank, all of the 32 organizations that were involved are wonderful and do great things!" Nancy Werhkamp, Active Generations Director of Programming, said.
Special Olympics South Dakota
Special Olympics South Dakota (SOSD) provides year-round sports training and athletic competition for children (8 years and older) and adults with intellectual disabilities, serving over 2,700 participants annually across South Dakota. Winning $2,500 through #FNBGiveFirst will help them continue to provide opportunities for their athletes.
"My first reaction is to say thank you to all of our supporters who made the effort to vote for Special Olympics South Dakota," SOSD Chief Executive Officer Darryl Nordquist said. "First National Bank is such an amazing supporter of this entire community…we thank them for the support. All the non-profits in the contest are very worthy of everyone's support…we again thank everyone who voted for our cause."
Sioux Falls Area Humane Society
The Sioux Falls Area Humane Society (SFAHS) takes in abandoned, abused, homeless, and unwanted animals, while working to prevent animal cruelty and educate people on the humane treatment of animals. As a 100% community-funded organization, the $2,500 #FNBGiveFirst prize will be used to assist SFAHS in their mission of being a safe haven and human voice for all animals in need. In 2019, SFAHS rescued approximately 8,800 animals.
"We were unbelievably excited to be named one of the winners in the 2020 #FNBGiveFirst bracket," SFAHS Marketing Manager Bethany Buitenbos said. "This donation from First National Bank is such a blessing. With 2020 being a chaotic and unknown year, we have needed the support of our community more than ever to care for the animals that call the humane society their temporary home."
Bishop Dudley Hospitality House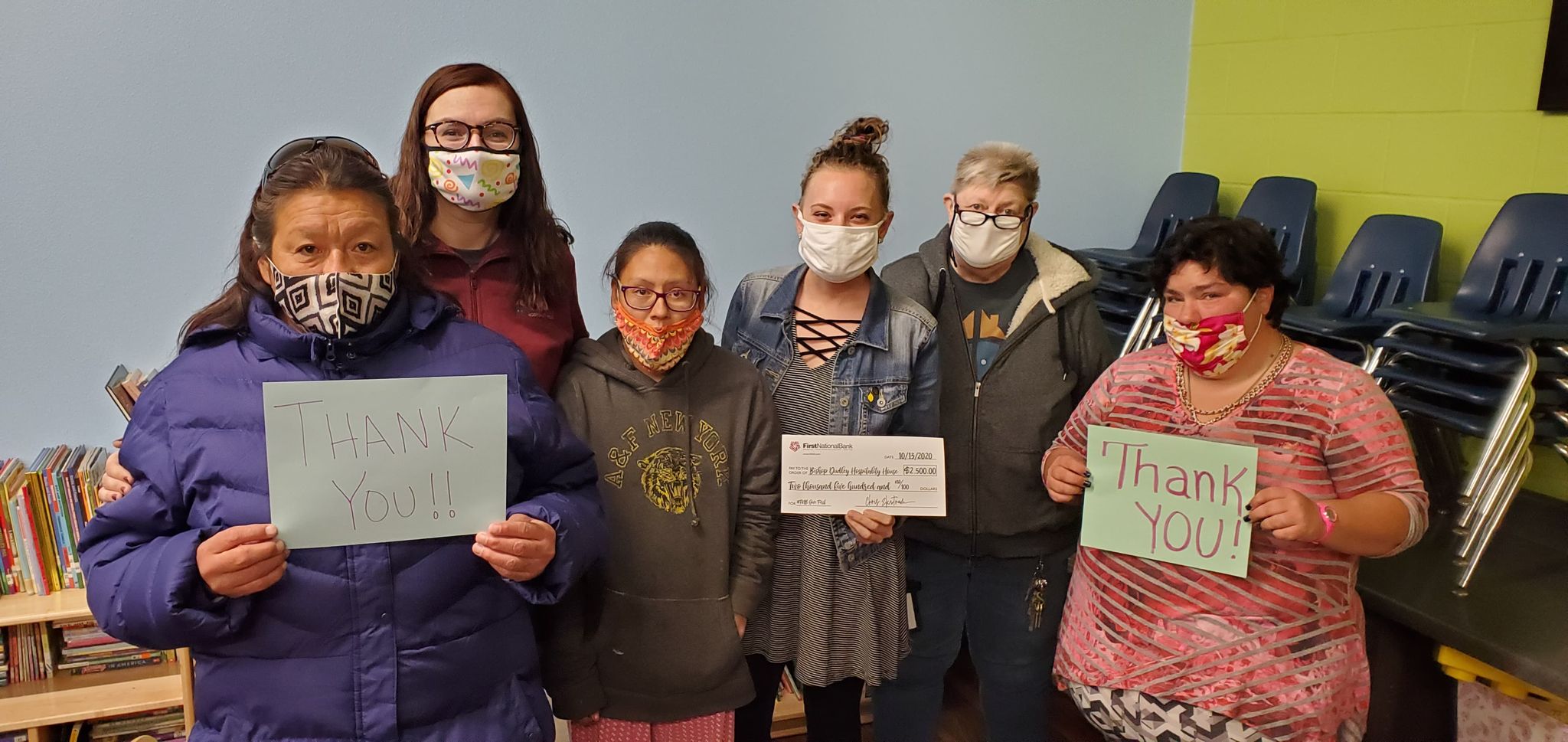 The Bishop Dudley Hospitality House (BDHH) is a day and overnight shelter that provides beds, lunches, laundry, showers, and more to vulnerable individuals in Sioux Falls. Their mission is "to fulfill the gospel call to love our neighbors as ourselves by recognizing the God-given dignity of each person and providing essential life services to those in need."
Last year, they served 1,723 individual adults and 107 individual children, as well as provided 20,525 lunches, 9,720 showers, and 3,220 loads of guest laundry. FNB is proud to award BDHH with $2,500 through #FNBGiveFirst to support them in carrying out the important work they do in the Sioux Falls community.
"We are so excited to be a winner of this fun competition!" Dakotah Jordan, Development and Marketing Coordinator for BDHH, said. "Over and over we have seen the community help meet the needs of our guests in the midst of COVID-19. We are overwhelmed with gratitude to receive this gift. It shows the commitment our supporters have for our guests, to take time out of their busy days to cast a vote for the Bishop Dudley House."