When we launched our innovative Community Card program for schools in 2012, Brandon Valley was the first of our six communities to join the team.
Eleven years later and there are now 15 schools in 10 different communities on the program's roster. And yet, Brandon Valley has received nearly a third of the $330,486.12 that we have given back through the program.
"A large portion of Brandon's community members are Lynx," said Val Lemkau, Branch Manager at our Brandon location. "It doesn't matter what sport you play. It doesn't matter if you're in athletics, in band, in choir — it unifies everyone in the school district. I think that's helped Brandon Valley to be so successful with this program."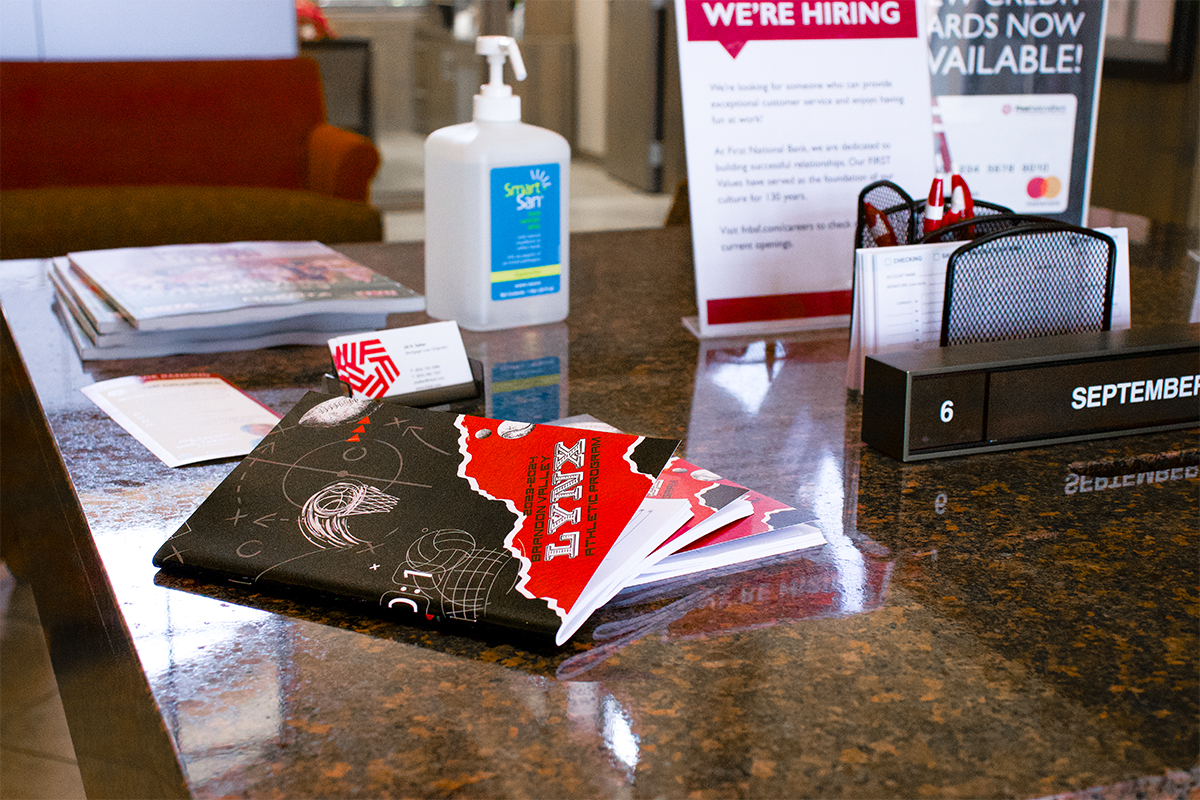 Giving back through the Community Card program
When customers of FNB make a credit purchase with their school's Community Card, we donate a portion of that amount back to the school.
Then, we distribute checks throughout the year to give that money back to the 15 local schools involved in the program.
A distribution on September 8 marked a huge milestone for us: by presenting a check for $15,453, we brought Brandon Valley's total earnings through the program to $100,000.
"The first couple of check presentations we made in Brandon were for $1,000 or $2,000 each," Val said. "It's grown a lot since then, and this is the largest distribution we've made to Brandon Valley so far. It's amazing to reach that $100,000 mark."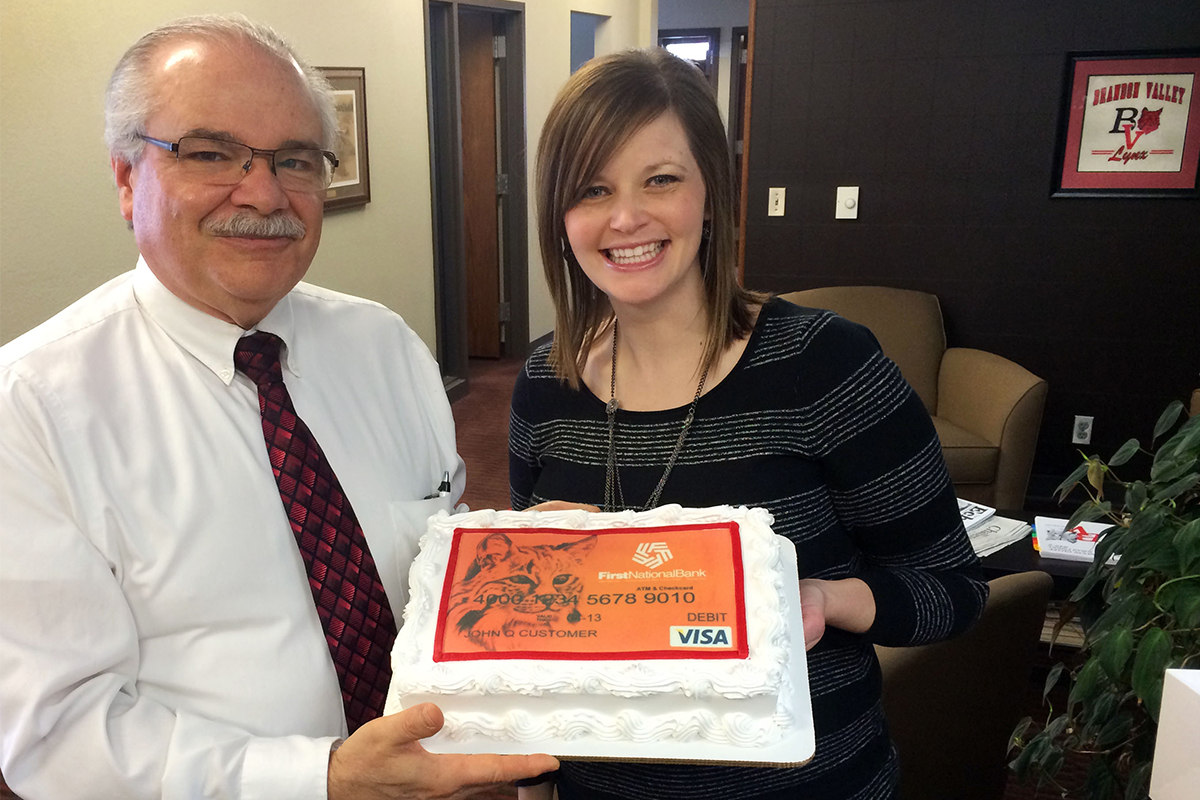 One of the earliest Brandon Valley Community Card distributions in 2014.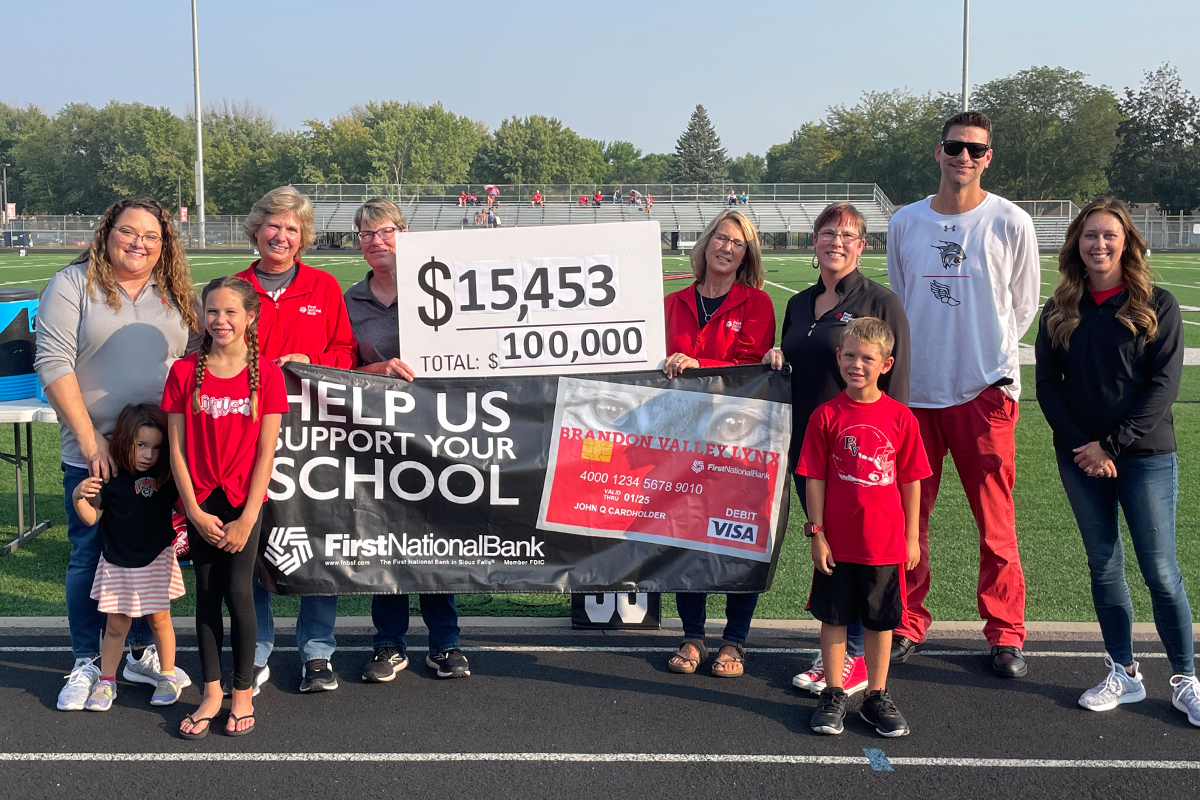 FNB's Brandon bankers present a milestone check to the Brandon Valley School District on September 8.
Building a strong partnership
When the Community Card program first launched, it took some education on our part to get customers involved and excited.
"Not only was it a new program, but Brandon was the first community to join," Val said. "There was always the question of, 'What does it cost me?' But this program really is at no cost to our customers, and it's one of the Bank's ways of giving back to the communities we're a part of."
These days, according to Val, our bankers often don't even have to show customers our full slate of debit card options.
"Thanks to word of mouth around the community, the program has taken off," she said. "People know that it's there. They recognize it and have really embraced it. When they come in asking for the Community Card, that, to me, is the big milestone."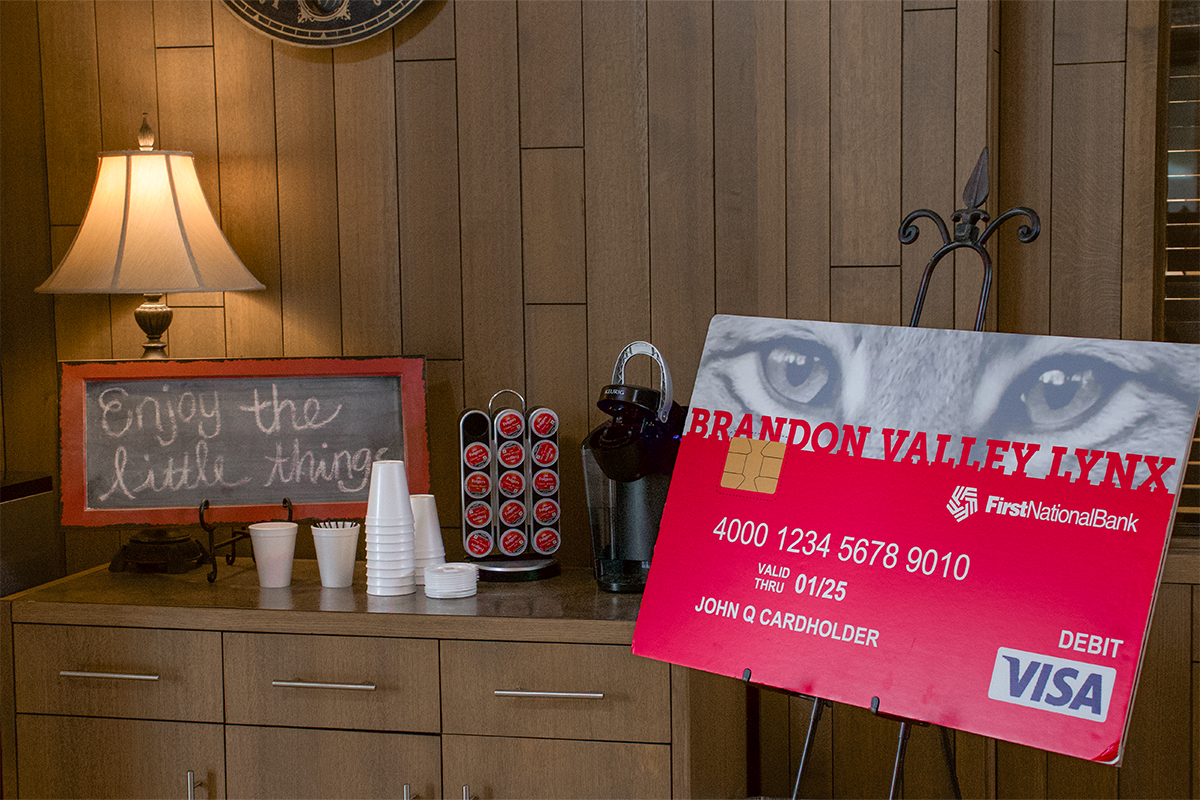 And she says that for good reason, as the program wouldn't even exist without customer support.
Although Community Cards are built on a three-way partnership among a school, FNB, and our customers, the program relies solely on those customers who are willing and eager to add a Community Card to their wallet — and then use it regularly to earn money for their school.
"As for the Bank, we've always had a great partnership with the school district," Val said. "I think this program helps unify the community members with the school as well, since they're the ones earning those donations for Brandon Valley."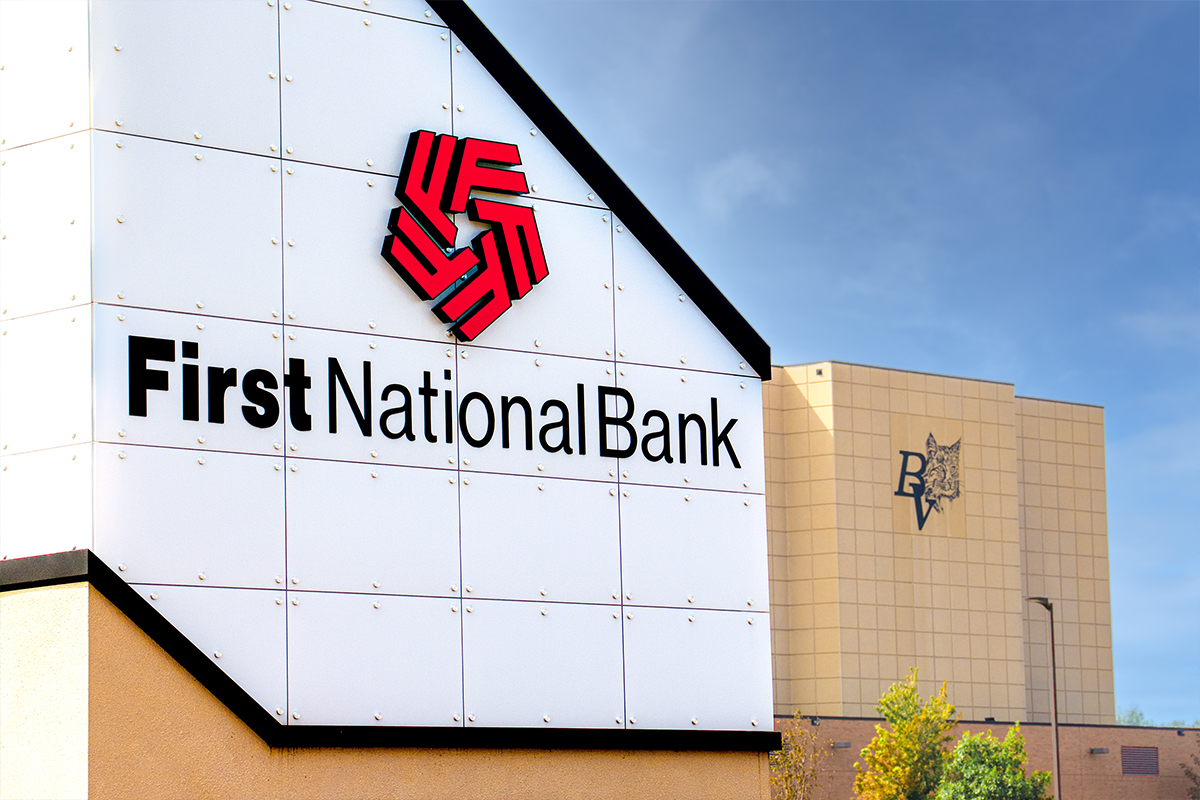 "Working hand in hand with First National Bank over the last 30 years has not only been about financial support, but also about fostering a sense of community and collaboration that benefits both our students and the local economy," said Paul Lundberg, Brandon Valley School District business manager, of our local bank that has served Brandon since 1991.
"The $100,000 milestone, made possible by our local Brandon Valley First National Bank patrons, is a testament to our community's commitment to enhancing education," he added.
Impacting every student in Brandon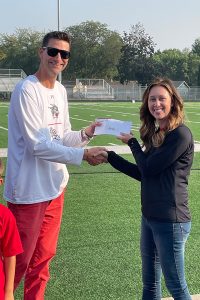 Each school involved in the Community Card program can decide where their donations go.
While some put the money straight toward their booster clubs or athletics, Brandon Valley operates a little differently.
"Our checks go directly to the Brandon Valley School District," Val said. "It was really important that those funds would be distributed to all students and staff."
"Through our partnership with First National Bank, and specifically the Community Card program, we have been able to enhance educational programs and further promote high quality student experiences," said Dr. Jarod Larson, superintendent of the Brandon Valley School District.
One way the donations have been used over the years is to help fund the school district's "Lynx Way" t-shirts, which are given to every student and staff member at the beginning of the school year.
"No matter what your income is, when it's homecoming or spirit day you will have something that you can stand proud and wear," Val said. "They used part of the Community Card funds to offset that cost one year, which was something significant that we got to be a part of."
Another year, the money helped fund a reading initiative, where every student in the district received a free book to read over the summer.
"As a parent, I appreciate that these are benefits my own kids have been able to receive," said Val, who has two children in the Brandon Valley school system. "A bank doesn't have to do this, but FNB values our community enough to invest these dollars into our growth and our kids."
Supporting the community in more ways than one
While the Community Card program is a large part of how we practice stewardship in the Brandon community, it's not the only way we, as the city's only locally owned bank, offer support.
Another milestone in our partnership with the school district came in 2007, when we moved to a new location at the corner of Splitrock Boulevard and Holly Boulevard.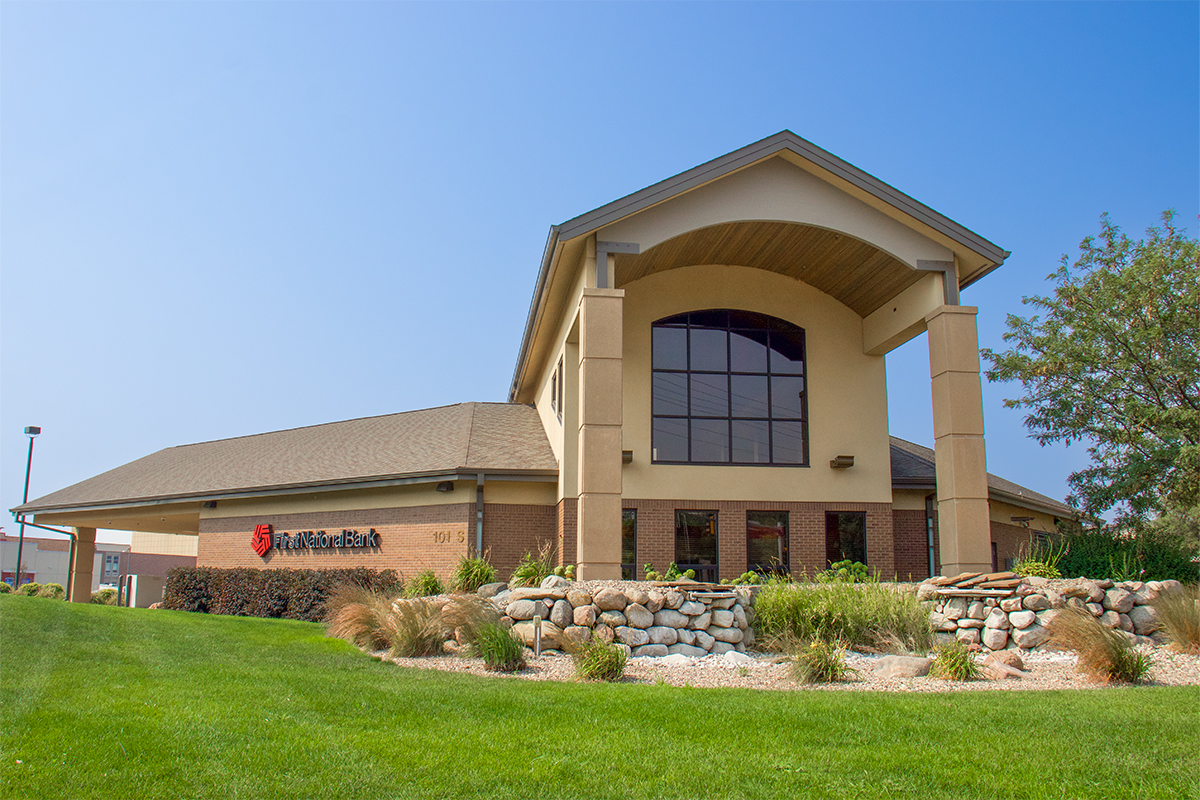 We donated our former branch building, also located on Splitrock Boulevard, to the school district — and that building now serves as the district's central office.
Additionally, we partnered with the Brandon Valley Baseball Association to build one of the finest baseball fields in the state of South Dakota: First National Bank Field.
We donated $150,000 to help fund the field, which opened in 2018 — but we really viewed it as funding the community.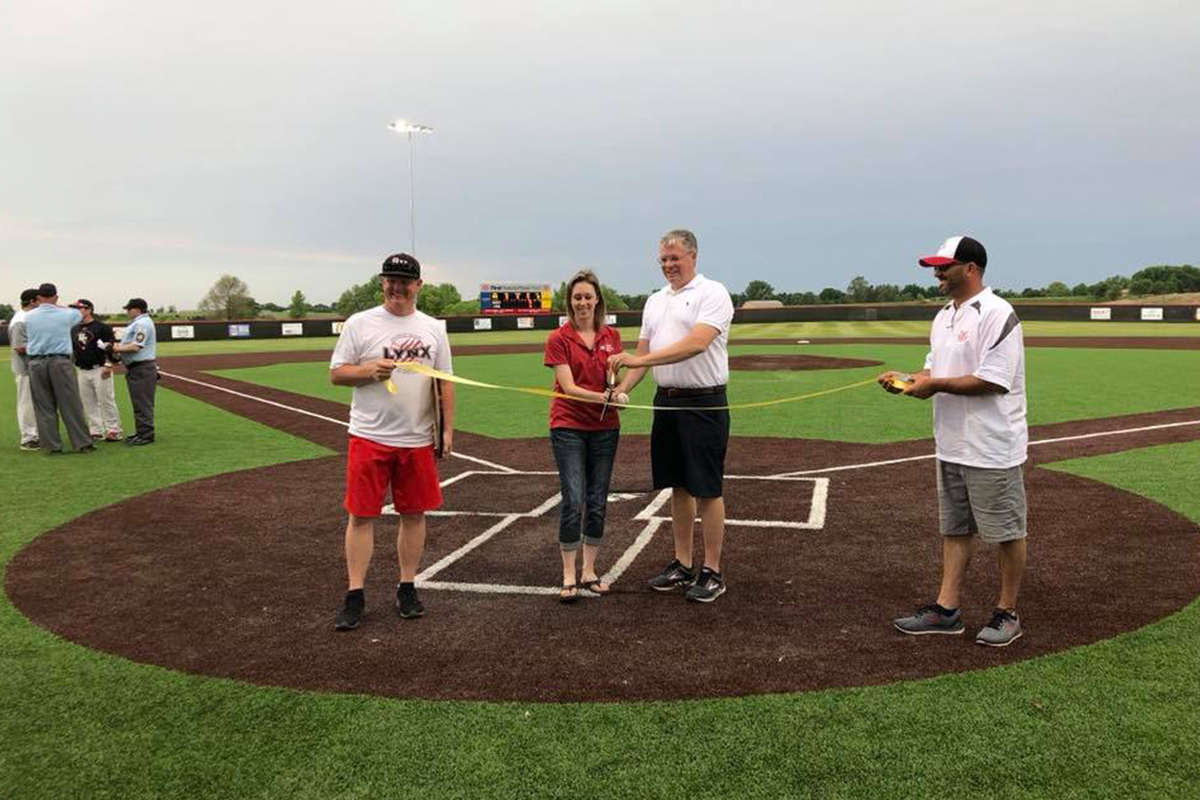 "Some people will say, 'Not every kid plays baseball,'" Val said, "but First National Bank Field positively impacts our local businesses by bringing in tournaments. Visitors are coming in from out of town and eating at our restaurants, staying in our hotels, finding entertainment in our community — which also increases sales tax revenue. It's not only helping the city; it's helping other local businesses, too."
In fact, the University of Sioux Falls baseball team played its slate of 2022 home games at First National Bank Field while field upgrades were being made at Sioux Falls Stadium, and USF and Augustana University co-hosted part of last year's NSIC Tournament there as well.
How you can get involved
We do a lot of our own giving to help build up the Brandon community, but the easiest way for you to join in on the fun is through the Community Card program.
A Brandon Valley card can be added to any FNB personal checking account, and students can show their school pride by choosing one to accompany their Student Checking account!
"A lot of students proudly wear Lynx apparel and represent their team with our debit cards," Val said. "Sometimes kids think, 'I'm too cool for my school stuff,' or 'I'd rather have a tie-dye card.' But most of the students are choosing the Community Card as well. It's unified. It's something they're proud of — to be a Lynx."
If you want to help Brandon Valley earn even more money, you can request a card by visiting our branch at the corner of Splitrock and Holly in Brandon, or by reaching out to Val here.
And if you're not a Lynx but still want to support your school through the Community Card program, check out the full roster here.