What happens when a bank that's been serving the Sioux Falls community for more than 135 years decides to remodel its 46-year-old Downtown office and branch?
In our case, the result is enhanced customer service and a modernized space that turns "a trip to the bank" into an experience.
You won't be greeted by live music or light shows or free food when you walk through the doors at 100 South Phillips Avenue. It is still a bank, after all.
But you will be greeted by friendly faces who specialize in all different areas of financial services and want to help you reach your financial goals, whether that's buying a house, starting your own business, saving for retirement, or just depositing a check into your savings account.
Surely, you're wondering what makes that an "experience" — or different from any other bank, for that matter.
Well, we updated the space in a way that would encourage the building of relationships; ensure that all of your needs are met; and keep the high-touch, personal feel of a local bank front and center.
"We've always been centered around the customer experience," said Bob Baker, Director of Corporate Affairs. "The updated space will further emphasize that. It's much more inviting, and all of the services we have on the first floor will be wonderful for customers."
Picture this:
You walk through the east- or west-side doors of our Downtown building into the newly renovated, wide-open atrium.
Sunshine spills in through the atrium windows (on the right day, of course), brightening the space and highlighting every carefully selected detail added in the remodel.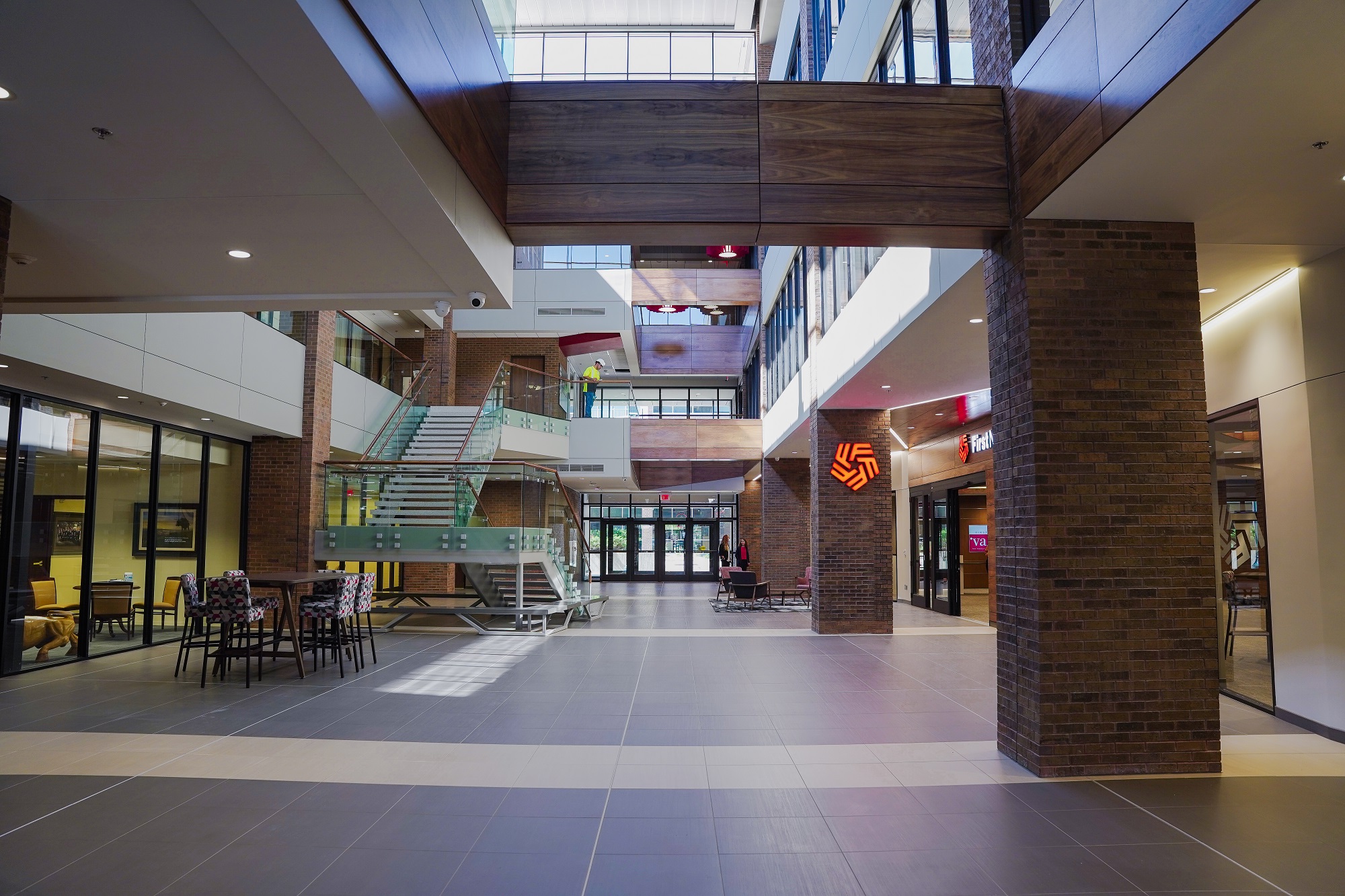 If you steal a look upwards, you just might catch a glimpse of the activities happening throughout the rest of the Bank.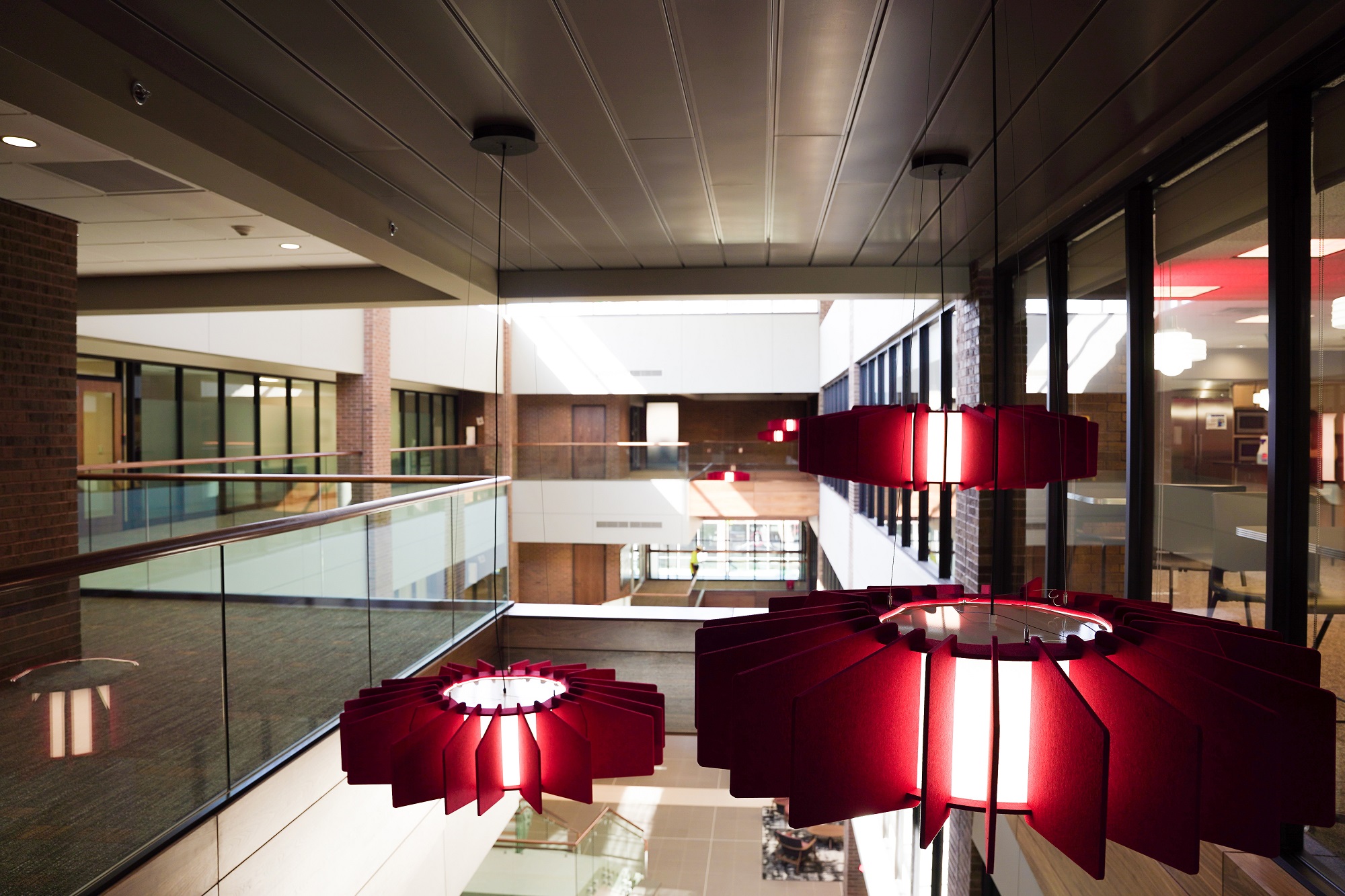 You make your way through the doors of the first-floor lobby, where you are greeted by a Personal Banking team made of up of Tellers, Personal Bankers, and Branch Manager Joanna Portice.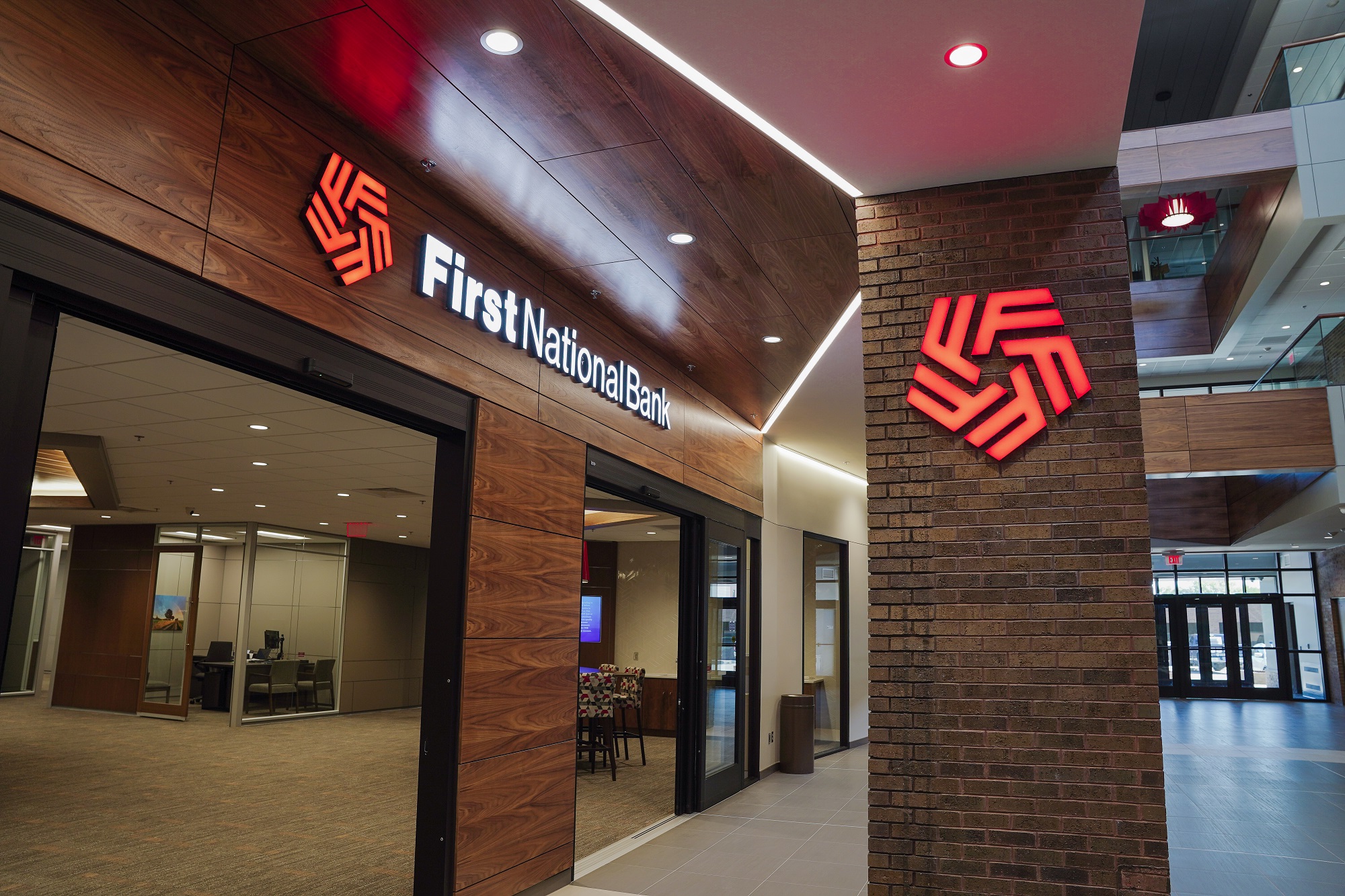 To your right is a high-rise table and a beverage bar; directly in front of you is a casual seating area. You're welcome to lounge in either of these places or get to know members of our team.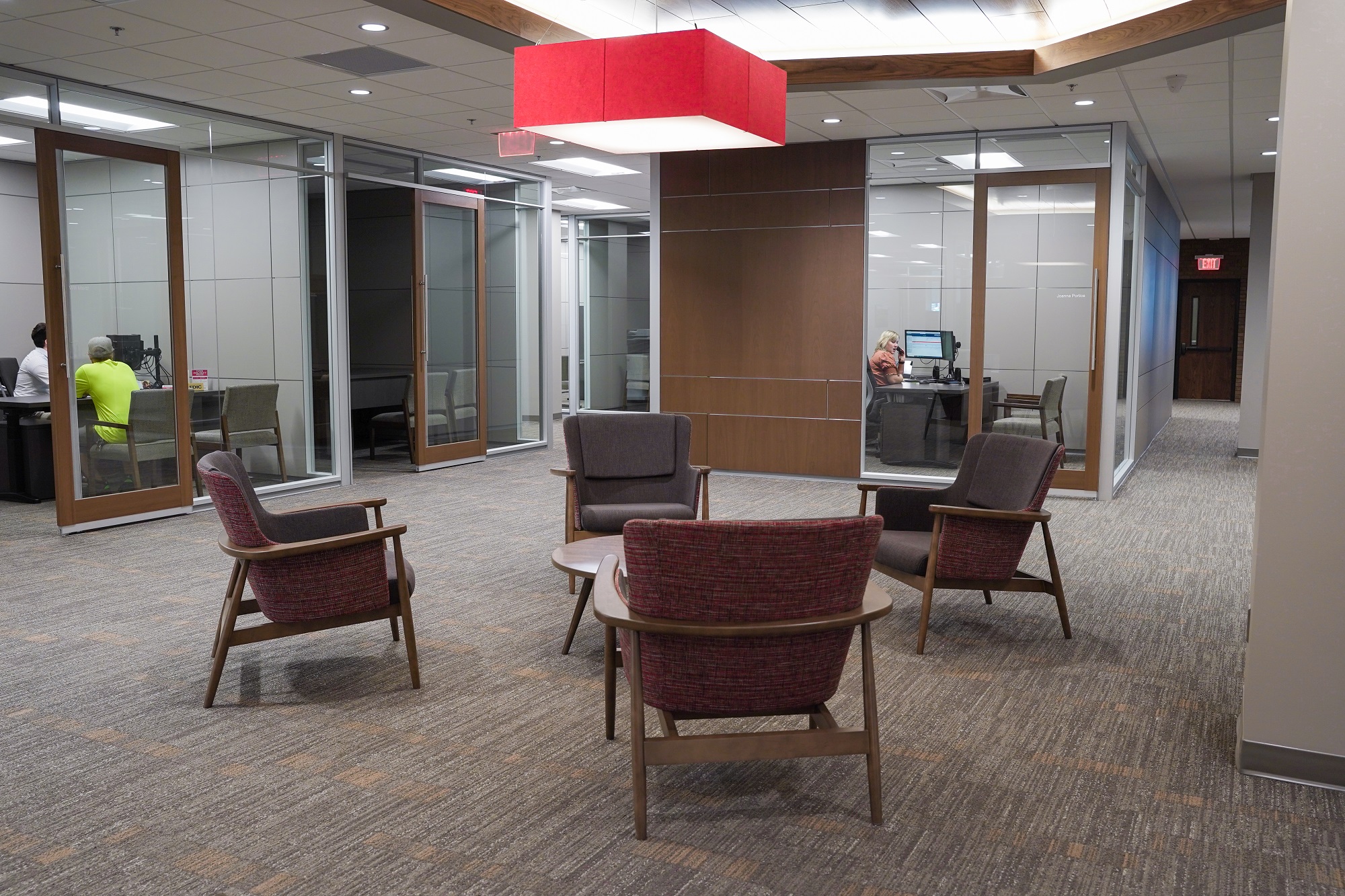 From there, the magic starts to happen. Whether you're there to meet with a banker or just to deposit a check, you'll have the opportunity to discuss all of your financial needs with the team on staff.
Portice and her Personal Banking team are ready to help you with your accounts and loans or discuss your financial goals and needs.
They're also happy to introduce you to products and services that will help improve your financial life.
If you'd like, you can meet with a member of the Business Banking team to discuss how to make your entrepreneurial dreams a reality.
Business Banking Manager Jeremy Keckler and the Downtown Business Bankers are all located on the first floor, and they'd love to meet with you to hear about your dreams and goals.
If you're looking to buy a house in the near future, there's a little something for that too.
Mortgage Banker Terri Foster is stationed near the Business Banking team, and she's ready to help you buy your dream house.
Next to Foster, you'll find Wealth Advisor Nick Ratzloff.
Whether you want help saving for retirement or managing your investment portfolio, Nick will listen to your needs and connect you to the best person on the First National Wealth Management team to help you reach your goals.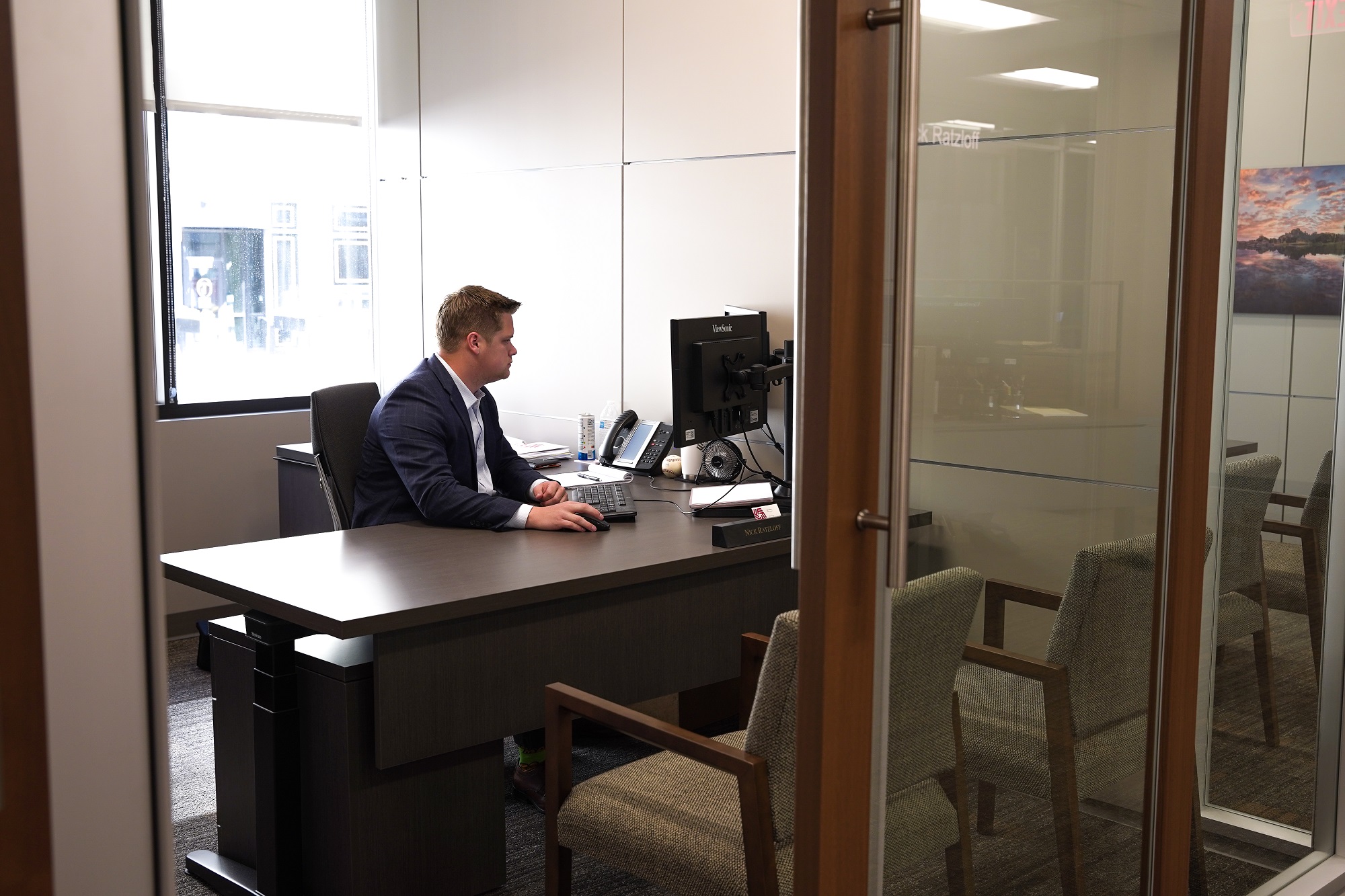 When you stop in to the new and improved First National Bank, you're welcome to meet with any or all of these first-floor teammates — there's someone ready to help for all of your financial needs.
And remember that our team is going to do everything they can to make it a great experience.
"We're excited to welcome customers back inside our Downtown branch," said Baker. "This building has served us very well since it was built in 1976, and we can't wait for people to experience the updated space."
Want to experience the remodel for yourself? Pay us a visit!