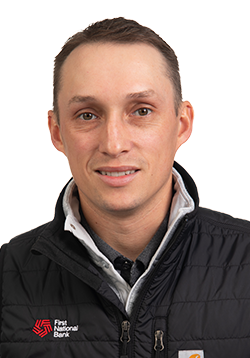 Grant Olson
Ag Banking Team Lead
The following is a story from the September 2021 edition of our First on the Farm Newsletter. 
Session 3 of the Farmers 'N Bankers Program was held August 12-13. This year's tour included both Class 3 and Class 4 as a result of last year's COVID-19 restrictions. This session took us out of the classroom and into nearby Agribusinesses to learn more about the processes and products produced using locally grown commodities.
Our first stop of the 2021 Agribusiness Tour was in Brookings, SD to tour the newly constructed Raven Precision Agriculture Center on the campus of South Dakota State University. We were greeted by faculty eager to give our group one of the first tours of the facility prior to the ribbon cutting scheduled for September 11, 2021. During our tour of the facility, Department Heads Van Kelley and David Wright explained the vision for the facility and the future of the precision agriculture academic programs at SDSU.
From Brookings, the group headed northwest for a quick stop at Agropur in Lake Norden, SD. The purpose of this stop was to update our group on the dairy and dairy processing industries prior to our Garfield Dairy tour near Bryant, SD. We learned that Agropur's most recent expansion increased their processing capacity from 3 million to 9 million pounds of milk per day. The new expansion makes Agropur one of the largest cheese plants in the Midwest.
Our final day one tour took us to Garfield Dairy, just east of Bryant. Garfield Dairy is a 9,500 head dairy owned and operated by Riverview, LLP. They use a rotary milking parlor that can milk approximately 110 cows at a time with each rotation lasting approximately 7 minutes. Feed and manure management practices created a lot of discussion with our tour leaders. The group spent a considerable amount of time learning about the onsite manure separators. The dairy uses these separators to produce dry matter for reuse as bedding with the liquids pumped out to the covered lagoons.
Day two of the Agribusiness tour took us to Aberdeen, SD where we were able to tour DemKota Ranch Beef. Before touring the processing floor, we had the opportunity to meet with Adam Bode, DemKota's COO. Adam shared with our group the history of DemKota, how their business compares to the "Big Four" meatpackers (Tyson, JBS, Cargill, and National) from a size and efficiency perspective, and lastly, the ongoing labor shortages in the industry. Following our discussion with Adam, we were led through the processing facility where we were able to see everything from the receiving area to their cold storage, and every process in between!
Session 4 of the Farmers 'N Bankers Program is scheduled for December 8 and is titled "The Importance of Succession Planning." During this session we will discuss various legal structures available to farmers, real-life examples of successful and unsuccessful estate planning situations, and many other considerations that must be made while planning for the future.
For those of you interested in the Farmers 'N Bankers Program and would like to learn more, please contact your Ag Banker or me.
Hutterite Banking Institute
New this fall we will be accepting applications for the Hutterite Banking Institute (HBI). HBI is a 4-session educational program built specifically for Hutterite Colonies. Our goal with this program is to provide a series of educational opportunities focused on financial statements, financial analysis, and risk management tools available for your operation. For those of you interested in the HBI program and would like to learn more, please contact your Ag Banker or me.