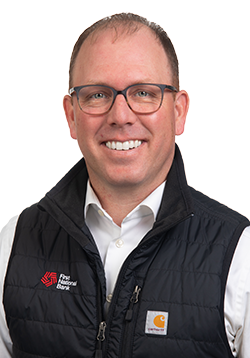 Brian Gilbert
Ag Banking Manager
As the calendar page turned to another year this January, we were met with weather that we haven't seen in many years. Inclement weather like this adds stress to everyone, but it is especially hard on ag producers.
We at The First National Bank in Sioux Falls want to say thank you to all of you who are braving these wintry conditions to ensure that we meet the world's ever-growing demand for food.
2022 was a successful year for most ag producers from a financial standpoint. Meanwhile, 2023 looks to bring tighter margins for many — but it will likely still be a profitable year.
This will help many ag producers prepare for the next ag cycle.
According to many ag economists, the overall health of the ag industry is as good as it's ever been. However, we are keenly aware that we are in a cyclical industry, and we will once again be tested when markets retrace.
Many of you are working with your FNB Ag Banking experts right now to plan for 2023 and your financial needs, and we would like to extend a thank you for your past and future business.
We know that you have other options, and we continue to strive to make The First National Bank in Sioux Falls your first choice for all of your banking and insurance needs by being the premier ag lender in our area.
One way we like to provide additional value to you is by offering training that helps you succeed through the volatile markets and ever-changing agricultural landscape.
For 13 years, the First National Ag Team has hosted our Cultivate Your Future event to provide ag producers with the tools and education they need to help their operations thrive in both good and challenging times.
This year's 14th annual Cultivate Your Future event on February 16 will feature speaker Damion Mason and will prove to be our best event yet, with an action-packed day and three dynamic speakers.
We invite any ag producer or family-business owner to attend so we can equip you with the tools to succeed for years to come. All are welcome, and you don't have to be a First National Bank customer to attend either!
For a full schedule of events and how to RSVP, see below: