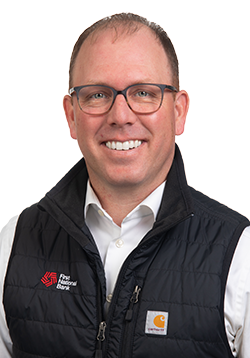 Brian Gilbert
Ag Banking Manager
While we may have gotten a late start to spring field work and planting, South Dakota farmers were able to catch up in a hurry, getting generally everything finished in a timely manner.
After working on my family farm this spring, I realized that the technology of farming seems to be outpacing my knowledge base.
Even though I may not be much help with new equipment, I certainly still enjoy spending my time on the farm — as well as with all of the hardworking producers that The First National Bank in Sioux Falls enjoys a relationship with.
After my time on the family farm (which is one of the best places I can think of), I traveled to Washington, D.C., to meet with policymakers regarding banking and agriculture issues on behalf of First National and the Independent Community Bankers of South Dakota.
These settings were quite the contrast to each other in just a matter of two weeks, and it was probably good that I was able to be grounded in my roots prior to making the trek to D.C. Although it's a great place to visit, this farm boy feels like a duck out of water at times in our nation's capital.
Nevertheless, advocating for agriculture and all of the things that impact our industry is a very important part of my role as the Ag Banking Manager at one of the largest agricultural banks in our state.
The topics of conversation at this year's Capital Summit ranged from differentiating community banks from some of the large regional banks making headlines for all the wrong reasons lately, to the Farm Bill and much in between.
While we discussed a variety of topics with our state's representatives, agriculture topics carried most of the weight — partly because we as South Dakota bankers, along with our representatives, understand the importance of our state's number one industry, but more importantly because there is a deadline to revisit/address the Farm Bill that is quickly approaching on September 30.
It's rather likely that the current Farm Bill will be extended given the divided Congress; however, the discussions have already begun on what the next bill will look like.
The Farm Bill will likely go from $800 billion to $1.4 trillion, which sounds promising considering the title of the bill has "Farm" in it. Unfortunately, as many of you know, the actual program payments that impact your bottom line represent a very, very small percentage of this bill's programs.
In fact, less than 15% of the bill has anything to do with subsidies or direct payments to farmers and ranchers, and it appears as though the ag "piece of the pie" is likely to become smaller.
After our meetings, it's clear that we are facing some headwinds with keeping current funding levels the same.
However, some things that community bankers and our competition agree on is that crop insurance and Livestock Risk Protection (LRP) are one of the primary safety nets that give producers a tool to minimize risk and give lenders the ability to help lend to the next generation, thereby assisting family farms in passing the torch.
Other items under discussion include improving access to FSA guarantees by increasing guarantee limits and initiating an express guarantee program, making it easier for lenders and producers to work with the FSA to get the guarantee executed.
Additionally, "sustainability" continues to be a buzz word and will certainly be a focus on the new Farm Bill, whenever it's approved.
I'd like to close by saying that I appreciate all of your relationships, and we are honored to work with the best and largest industry in our state! Please do not hesitate to contact one of our Ag professionals, or me, if you need anything this summer and beyond.