We all know the story of 2021. A new president took office. The pandemic persevered into its second year. Vaccines offered some hope. The delta and omicron variants caused setbacks. Betty White left us on the last day of the year.
But the beauty of a community bank is that no matter what's going on in the world, we continue to adapt and innovate at a rapid pace. Here at The First National Bank in Sioux Falls, we are so proud of everything we accomplished in 2021 that we just had to share with you.
So, here is our 2021 year in review:
Return of KindnessFirst
Although 2020 halted our KindnessFirst initiative, vaccines meant a return to in-person events in 2021. We were so happy to host four KindnessFirst events this year!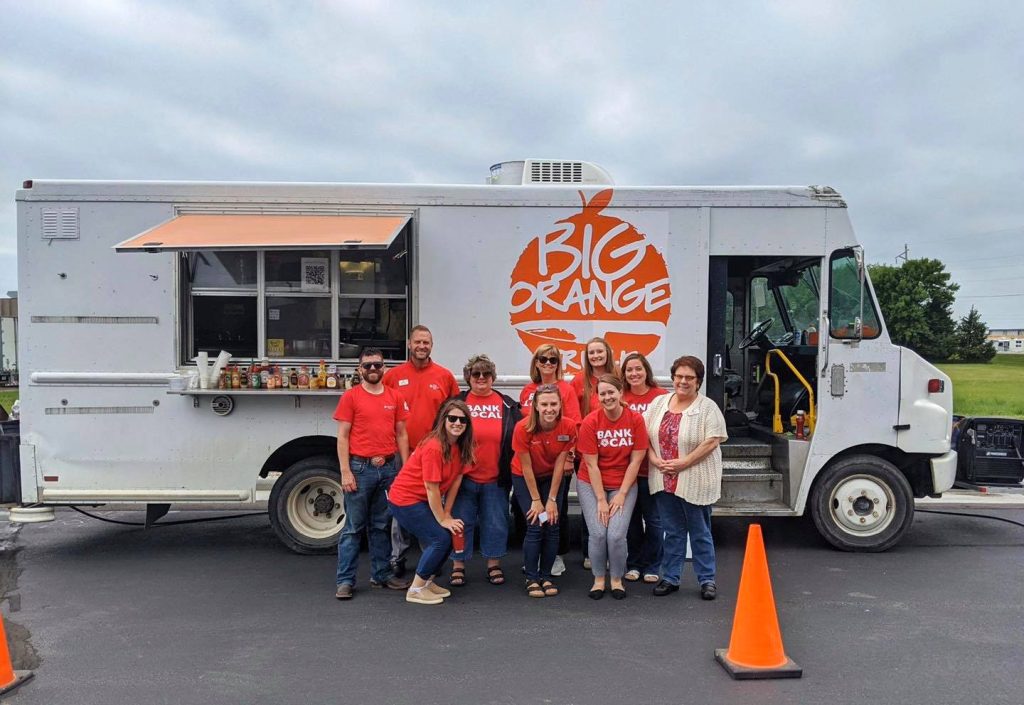 For our first event of the year, which took place in July, the Big Orange Truck parked in front of our Harrisburg branch. Employees gave away 40 coupons for $5 off at the food truck.
Then in September, employees volunteered at Obscure Brewing Co. to serve guests with their choice of a pint, flight, root beer, or pretzel bites. The family- and pet-friendly event filled up the brewery for three hours.
The Brandon branch held a tailgating party in October for our third event. Attendees were treated to inflatables, free food, and door prizes in the FNB parking lot before Brandon Valley's football game versus Rapid City Central.
Finally, for our fourth event in November, 20 employees volunteered at the four Sioux Falls Breadsmith locations and gave out free loaves of bread to anyone who entered the bakeries from noon to 4:00 p.m. Among the four locations, we gave away 1,232 loaves of bread!
Paycheck Protection Program (PPP) wrap-up
This year, we started round two of PPP funding to provide small businesses with loans amid the ongoing pandemic. To top it off, we wrapped up the program at the end of 2021 after receiving SBA approval and payment on the last remaining loans! Between the two rounds, we provided 1,830 loans at a total of $138 million, which impacted 14,400 jobs in our communities.
Common Cents on the Prairie™ milestones
We updated the website page for our podcast, Common Cents on the Prairie. Now you can sort the page by season and episode date, and you can choose to listen to each episode, read our blogs about them, or watch them on YouTube (for episodes with video) — or you can do all of the above!
In October, we launched season three of our podcast with the episode "The Secret to Becoming a Millionaire." And as if that wasn't enough to celebrate in 2021, the podcast reached another milestone in November: 10,000 downloads!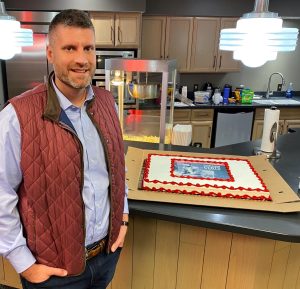 To celebrate this achievement and say thank you to our listeners, we gave away a $100 gift card to three lucky winners who played our Common Cents on the Prairie Trivia. Within the Bank, employees had a party in the FNB Diner, where we enjoyed our biweekly payday popcorn and some cake with podcast host Adam Cox's face on it. To learn more about this milestone, check out the original blog:
Alert system changes
When it comes to your money, you should never miss a moment. So we brought you a new and improved alerts system this year. You can now choose which alerts you want to receive, how you'd like to receive them, and when. To learn more about our new alert system, check out the original blog or watch this short demo:
Arrival of instant issue
We didn't want you to wait 7-10 business days to get a new debit card in the mail, so we did something about it. Enter: our instant issue program. Now you can come into any branch and walk out on the same day with a temporary card to use until your permanent debit card comes in the mail.
That way, if you open a new account, your card is lost or stolen, or you need a new card on an existing account because of fraud, you can have access to debit purchases right away while waiting for your permanent card. To learn more about our instant issue program, check out the original blog:
Demos page updated on site
To make your banking experience easier and help you succeed in your business accounts, personal accounts, or both, we updated the Demos page on our website. These self-service videos are there to help you learn more about the tools we offer. That way, you can manage your money however it works best for you. To learn more about this resource, check out the Demos page:
Coming in 2022…
Just like in 2021 and the 135 years before that, we are always trying to make the banking experience easier and more efficient for you. The next step in that process is an after-hours customer service solution. For 2022, we are working on providing you with a customer service line that is available outside of normal business hours, including nights and weekends. We expect to launch this service in the first quarter of 2022.
Plus, we are working hard to wrap up the construction on our Downtown location; we hope to have the project finished in 2022. Stay tuned for a ribbon cutting later this year!
And don't forget to follow along on our social media all year to see what we're up to.