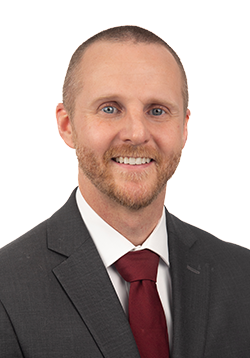 Bryant Henderson
Wealth Advisor
Since 2019, Wealth Advisor Bryant Henderson has spent countless hours completing rigorous coursework and studying for an extensive exam to earn his CERTIFIED FINANCIAL PLANNER™ certification — a recent accomplishment of his that we just had to share.
"I've wanted to become a CFP ever since I chose to major in investments at the University of North Dakota," Bryant said. "The biggest challenge was finding time to study and complete the coursework, since I was juggling that with work and raising three kids."
So, why did Bryant dedicate a little over two years of his life to earning this prestigious certification? Because it means that he is better equipped to help you plan for your financial future! Here's what it means to be a certified financial planner and why you should trust your financial future to one:
What is a certified financial planner (CFP)?
The CFP® certification is generally viewed as the gold standard in the financial planning industry. In order to become a CFP, advisors must hold a bachelor's degree or higher, have three years of professional experience under their belt, complete rigorous coursework, pass an extensive exam, and (after they've earned their certification) maintain high ethical and professional standards.
Great, so…why does this matter to me?
Well, if you're looking for a financial advisor, there are a few different reasons why you should choose a CFP:
While completing the coursework and studying for and passing the exam, CFPs develop extensive knowledge on just about every financial topic under the sun. Tax planning, retirement planning, investment planning, and estate planning are just a few areas that the program covers.
"One area I didn't have a lot of experience in before was tax planning," Bryant said. "But everything has a tax ramification to it, whether it's your estate plan, your retirement plan, or your investments. So, it was beneficial for me to gain more knowledge in that area to better serve our clients."
What that means for you: CFPs have all the tools in their toolbelt. So no matter what you need help with when it comes to your financial plan, a CFP can guide you through it.
CFPs must complete 30 hours of continuing education every two years. This ensures that CFP professionals are advancing their education and maintaining their high standard of knowledge and skills.
What that means for you: The world of finance is constantly changing, and you want an advisor who understands all the options available to you when it comes to your financial plan.
The CFP® program requires professionals to maintain high ethical standards; this includes following the fiduciary standard. As a fiduciary, an advisor is legally obligated to put clients' interests ahead of their own.
Good news: here at First National Bank, our Wealth Management department already follows the fiduciary standard, so you can expect this from all of our advisors!
What that means for you: Your best interests come first. Always. While many non-fiduciary advisors charge hidden fees that may bias their advice or eat away at your gains, our fees are simply linked to the size of your account. Put simply: when it comes to working with a fiduciary, you can expect honesty, transparency, loyalty, and care.
What about the rest of the alphabet soup?
In the financial services industry, there are a lot of abbreviations, and it can be hard to know which one applies to your situation. Three of the most prominent abbreviations are CPA, CFA, and CFP. Let's break down what each of them means to you:
CPA: CPA stands for certified public accountant. Wealth Advisor Paula Bindert holds a CPA certification and has a wealth of knowledge in public accounting and tax planning.
CFA: A CFA, or chartered financial analyst, typically works more in the investment sphere. But the process to earn a CFA designation is even more rigorous than for a CFP, which is why we're proud to say that we have three CFAs on our team: Trust Investments Manager Kyle Cipperley and Portfolio Managers Matt Adamson and Sarah Madison.
CFP: You already know what this stands for because it's all we've been talking about. We have two CFP® professionals on our Wealth Management team: Bryant and Wealth Advisory Manager Don Rahn.
One last time for good measure
To sum it all up, CFPs are the best of the best when it comes to financial planning. They've got tons of experience, they're constantly getting better at what they do, and they're held to high ethical standards. Not to mention, they put in about one to two years of their lives just so they could be better equipped to serve you.
"I'm happy to have learned everything I did from the process because it makes me a better advisor," Bryant said. "I'm still doing financial planning like I was before, but now I will be able to make even better recommendations for our clients."
If you'd like to work with CFP® professionals Bryant or Don — or any of our highly qualified Wealth Advisors — reach out. We'd love to set up a meeting!
Certified Financial Planner Board of Standards, Inc. (CFP Board) owns the CFP® certification mark, the CERTIFIED FINANCIAL PLANNER™ certification mark, and the CFP® certification mark (with plaque design) logo in the United States, which it authorizes use of by individuals who successfully complete CFP Board's initial and ongoing certification requirements.