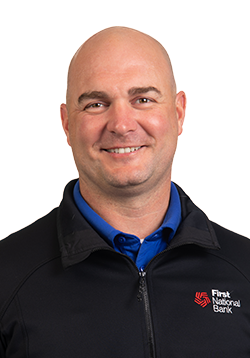 Phil DeGroot
Ag Banking Team Lead
As the weather starts to change and farmers prepare for harvest, it's good to remember the importance of farm safety.
Each year there are far too many accidents and deaths on the farm. I know how powerful a power take off (PTO) shaft can be, or how quickly corn in a bin or wagon can become like quicksand. Many of these farm-related accidents can be prevented by understanding the dangers and taking precautions.
Farm dangers can come in many forms: animals, ATVs, chemicals, grain handling, roads, and tractors. The top three causes of fatal ag injuries result from mishaps with machinery, motor vehicles (ATVs), and drowning. The top three causes of non-fatal injuries are animals, machinery, and falls. Many of these accidents can be avoided by following instructions on farm labels, installing and using proper protective structures on tractors, and making sure that guards are in place and maintained.
A family farm is a wonderful place to grow up, with the great family dynamic that comes from working with kids, parents, and grandparents all at once. With this in mind, it's important to note that farm injuries are the most common in children below the age of 15 and adults over the age of 65. Take special precautions when working on the farm with individuals in these age groups.
Accidents can happen quickly, and they are preventable. Progressiveag.org is a great resource for people of all ages to provide training on the different dangers on the farm.