January was National Hobby Month, so we spent it talking to our teammates about their hobbies. Here's what they shared with us for this special edition of Family Friday:
Adam Lamprecht — Drag racing
Adam is a Chargebacks and Adjustment Specialist with The Advantage Network here at FNB. When he's not submitting checkcard disputes or providing customer service for the member institutions of The Advantage Network, you can find him at Thunder Valley Dragways in Marion, SD. Adam started racing in 2002 with a 1991 Buick Skylark, but has since upgraded to a 1998 Chevrolet Camaro. Over the past 20 years, he has won six track championships with four other runner-up finishes.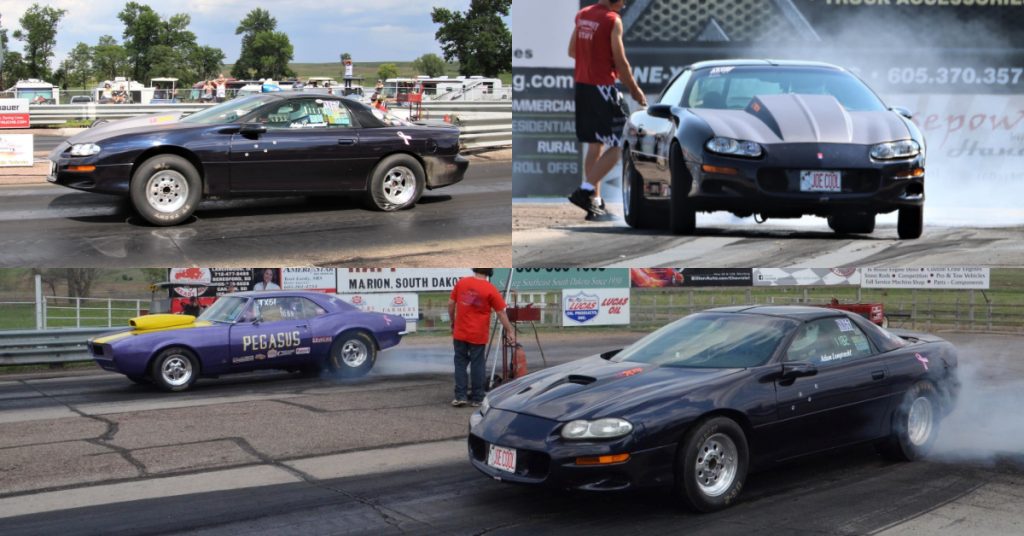 "The kind of drag racing that I participate in is called bracket racing. I like to call it 'chess at over 100 miles per hour' because there's so many factors to it. Races can be won or lost by mere hundredths or even thousandths of a second."
Alissa Albertson — Woodworking
Our Lead Loan Servicing Specialist Alissa spends her days booking and funding loans. When she's not doing that, she loves working with reclaimed wood to create new pieces. She got serious about it after meeting her husband two years ago, and now the two of them love working in the shop together!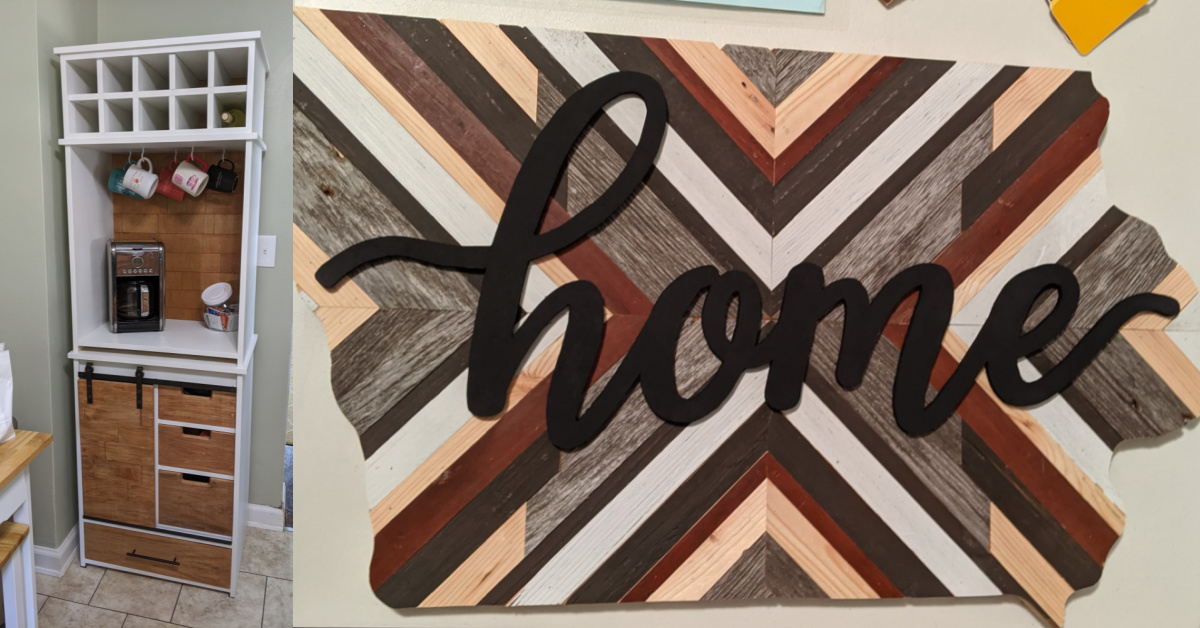 "The Iowa 'home' mosaic is a favorite piece of mine. It was a Christmas gift to my parents. The different colors of wood come from my home and the homes of my siblings, and the gray in the middle comes from the family farm!"
Alli Elbers — Repurposing old furniture
As a Universal Banker, Alli spends her days helping customers with deposits, withdrawals, loan payments, and more. But she spends her nights and weekends repurposing old furniture. Starting when she moved to Hills, MN, four years ago, Alli and her husband pick up old furniture on the yearly "junk day" to restore. When repurposing furniture, her sidekicks are sandpaper, chalk paint, and wood stain!
Amanda VanWesten — Making French macarons
Business Analyst by day and baker by night, Amanda loves making French macarons. Although she's only been at it for nine months, she's perfected her technique and enjoys experimenting with different colors, flavors, and fillings. For example, in December she made eggnog, peppermint bark, gingerbread, and hot cocoa macarons!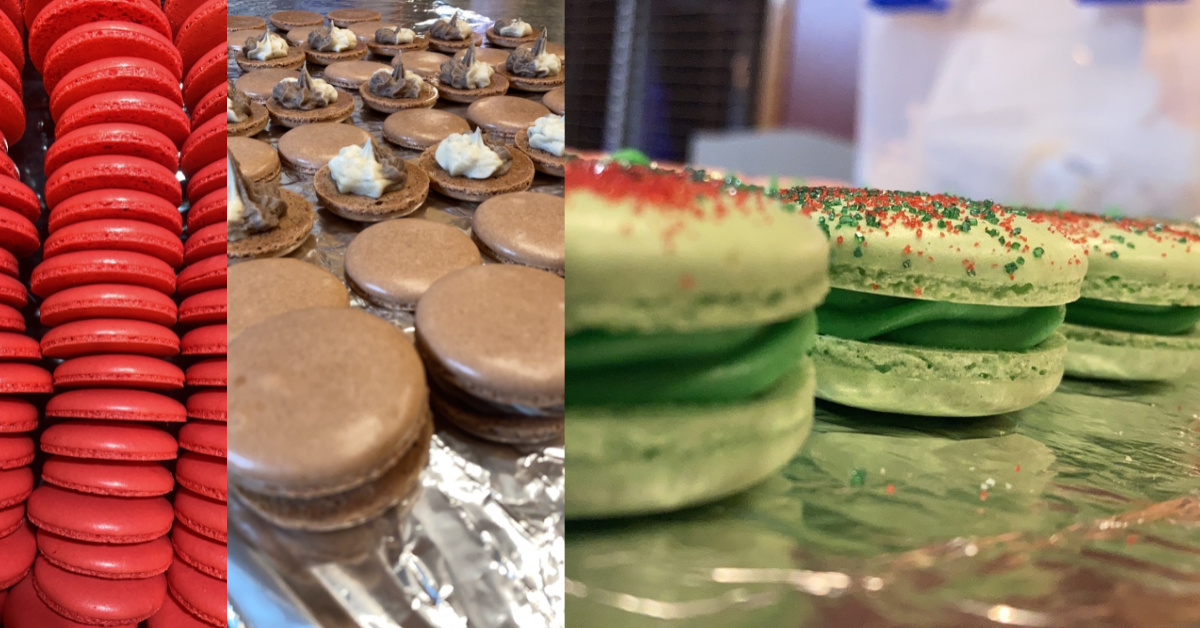 "The first time I tried making macarons, it was a complete failure and frustrated me to no end. But I had to keep trying! It took me quite a few attempts to get my merengue to the perfect consistency, my macaronage technique down, and my oven temperature and bake time right."
Kayla O'Neal — Rock climbing
Kayla is a Personal Trust Officer in our Wealth Management department. Her job duties include communication with clients, annual reviews, trust tax facilitation, and paperwork. But when she's off the clock, she's rock climbing!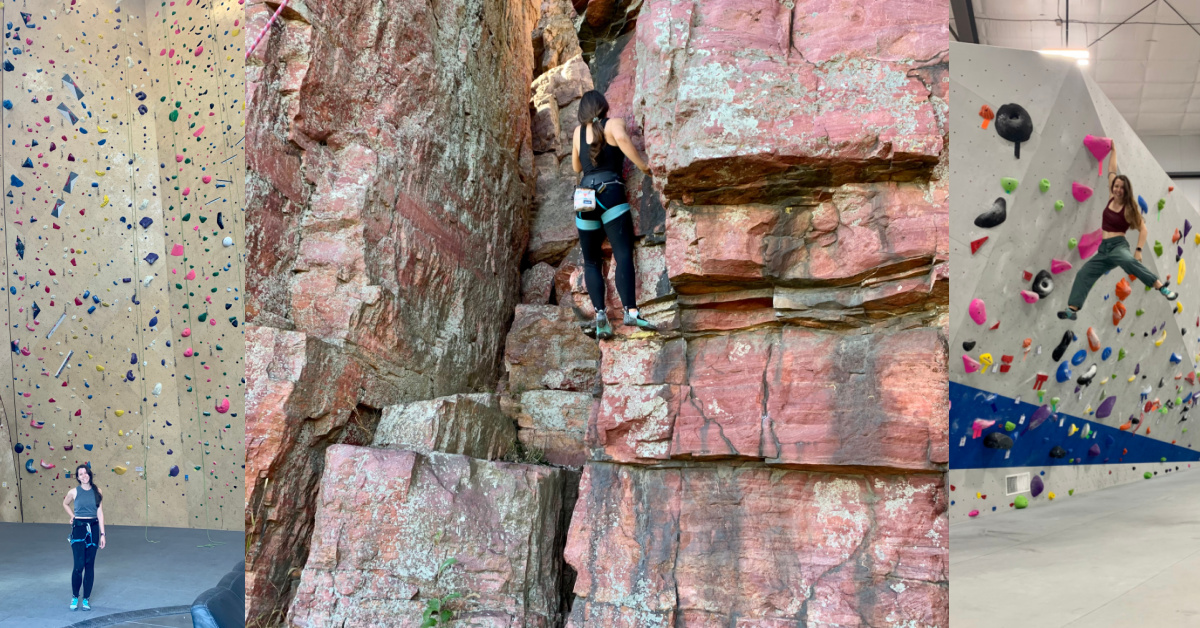 "My husband and I started climbing last May. We went to Frontier, the local climbing gym, and we haven't been able to stop since!"
Levi Parker — Juggling
As a Trust Officer in our Wealth Management department, Levi works with clients to make sure their financial goals are being met and helps carry out the trust or estate plans they've set up. Oh, and he also juggles.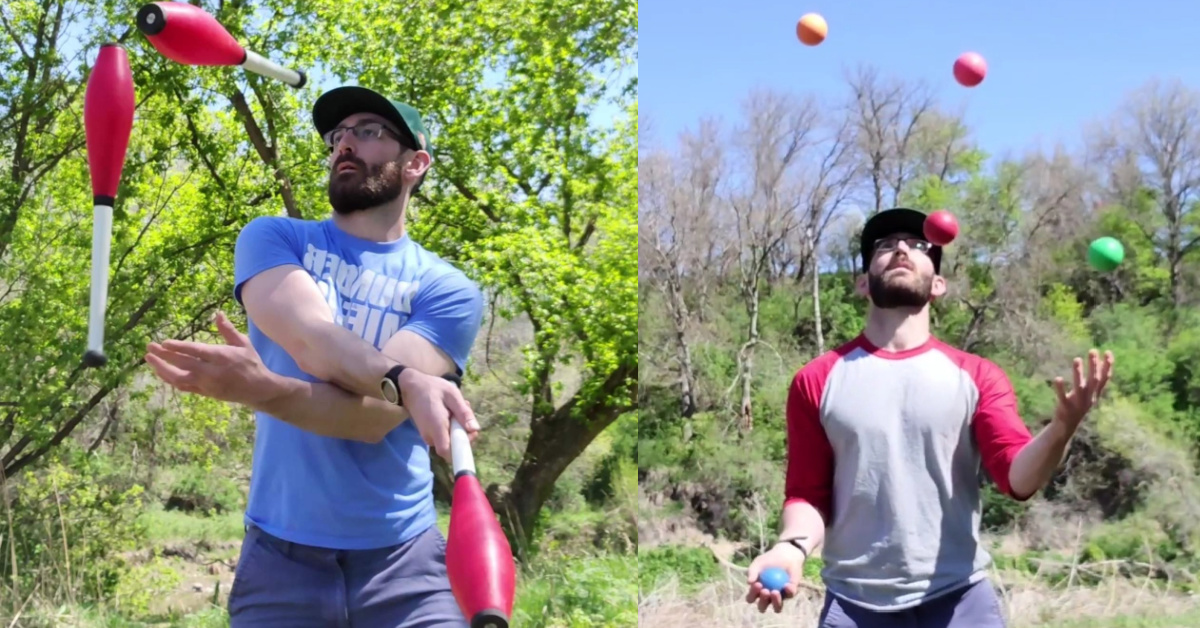 "As a kid, I taught myself how to juggle with three pairs of rolled-up socks. A few years ago, I decided to teach myself more tricks, and now I can juggle up to five balls at once and can also juggle clubs!"
Lynnette VanDerWerff — Making greeting cards
When Loan Quality Assurance Supervisor Lynnette is not at the Bank, she makes greeting cards. Using Pinterest as a guide, she decorates cardstock with die cuts, embellishments, ribbon, stamps, and different coloring techniques. Lynnette started making greeting cards in the '90s when her kids were young — it was a fun hobby to do with them, and she just never stopped!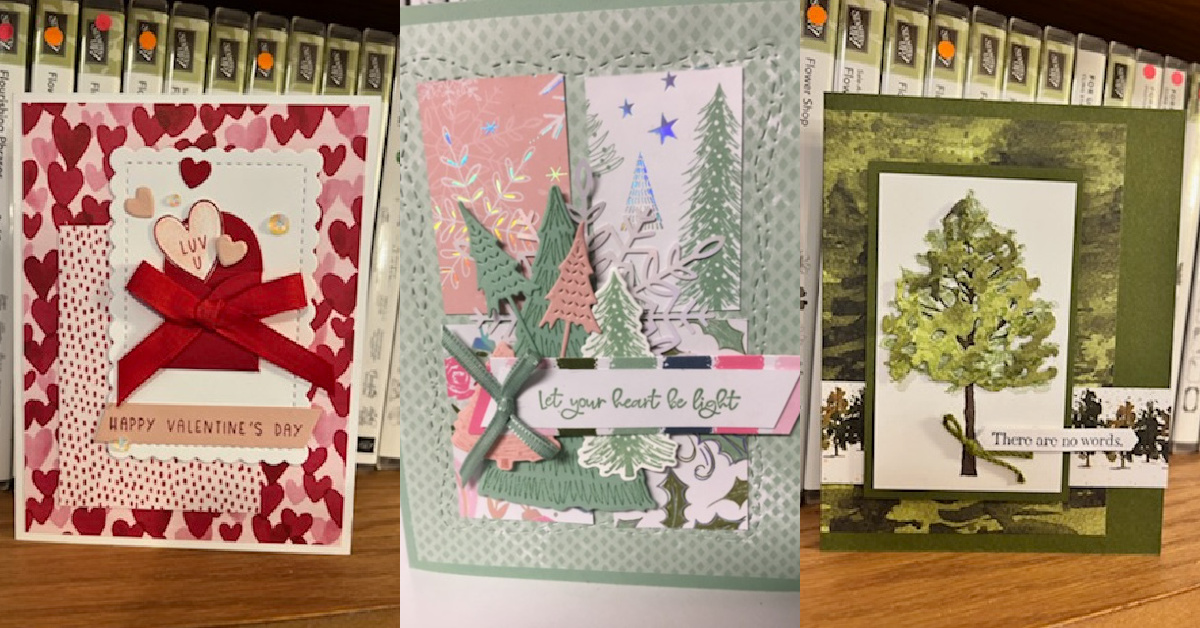 Meaghann Taylor — Making beaded jewelry
You can find Credit Analyst Meaghann analyzing credit requests while wearing her handmade jewelry. The first pair of earrings she made was a disaster, so she did her research and got the right tools, and now she has four different tackleboxes of jewelry supplies!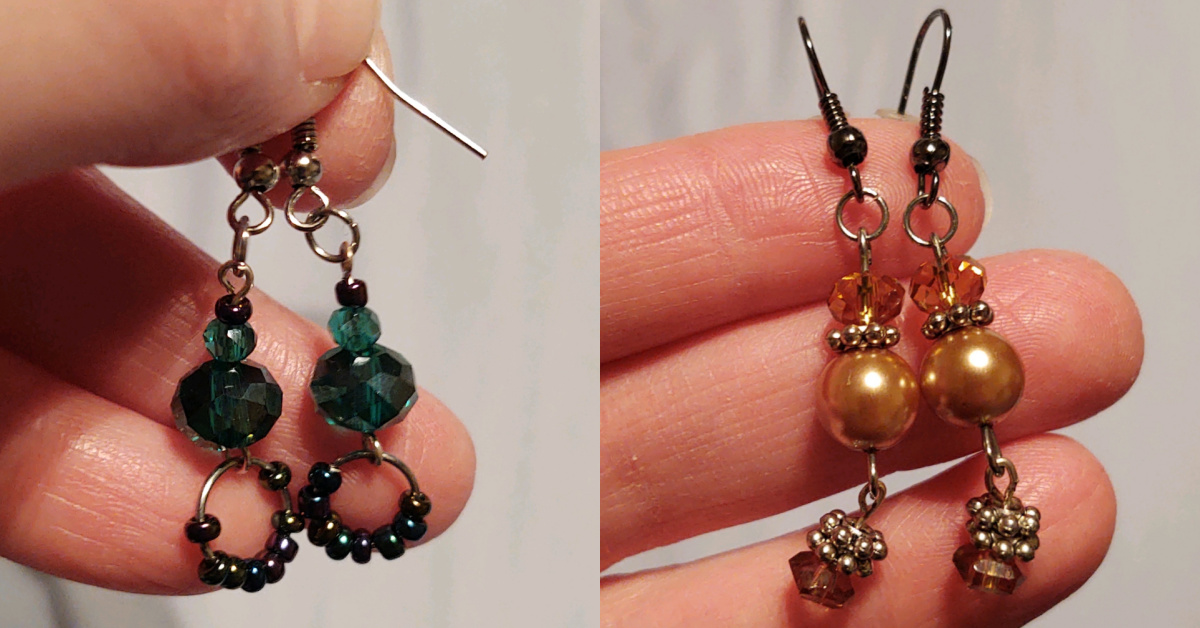 "A simple earring can take three different kinds of pliers to finish. I usually finish a piece in one sitting so I don't lose the idea, but sometimes it doesn't work out. Luckily, beads can be reused even if fittings can't."
Ron Kolbeck — Collecting vintage campers
Ron is the Commercial/Consumer Credit Manager at FNB. He also collects vintage campers. He and his wife purchased their first camper on eBay in 2008, and now they are the proud owners of four campers dating from 1948 to 1974.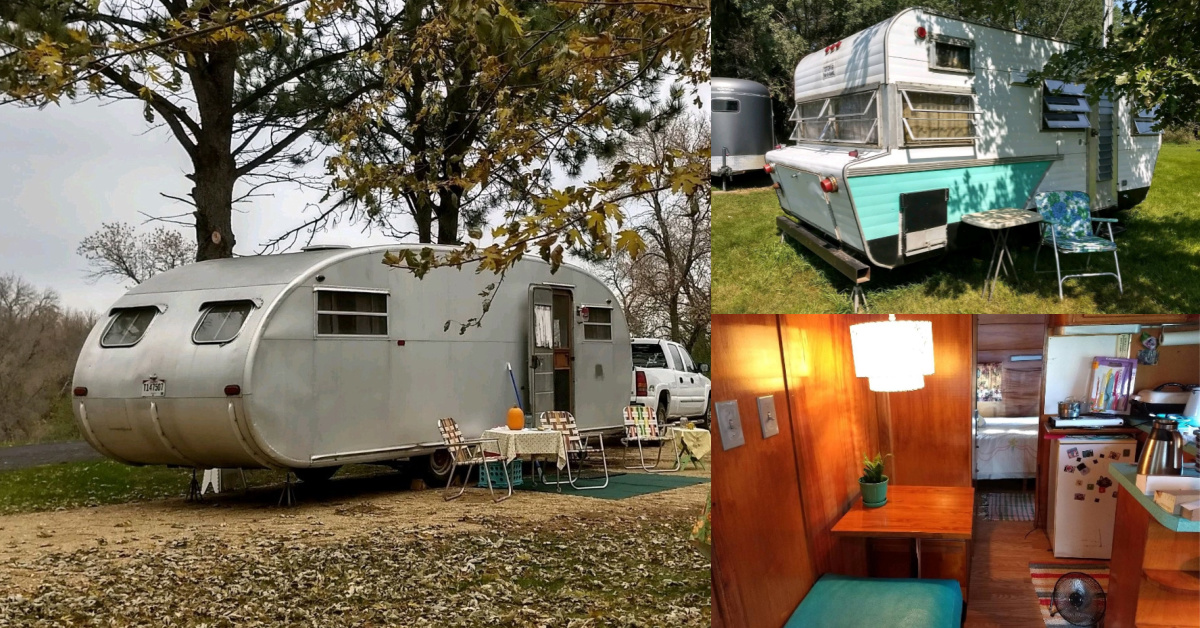 "We raise dairy goats on our acreage and have a lot of people that come to visit the farm. Now that we have a few campers, we offer them to guests who want to stay. We have even added electrical hookups and temporary bathrooms for guests!"
Sarah Madison — Snorkeling
Sarah is a Senior Portfolio Manager/Investment Specialist in our Wealth Management department. She loves helping people and companies grow and preserve their wealth, and she also loves snorkeling. Her first time snorkeling was on her honeymoon in Tahiti, where the waters are warm and crystal clear.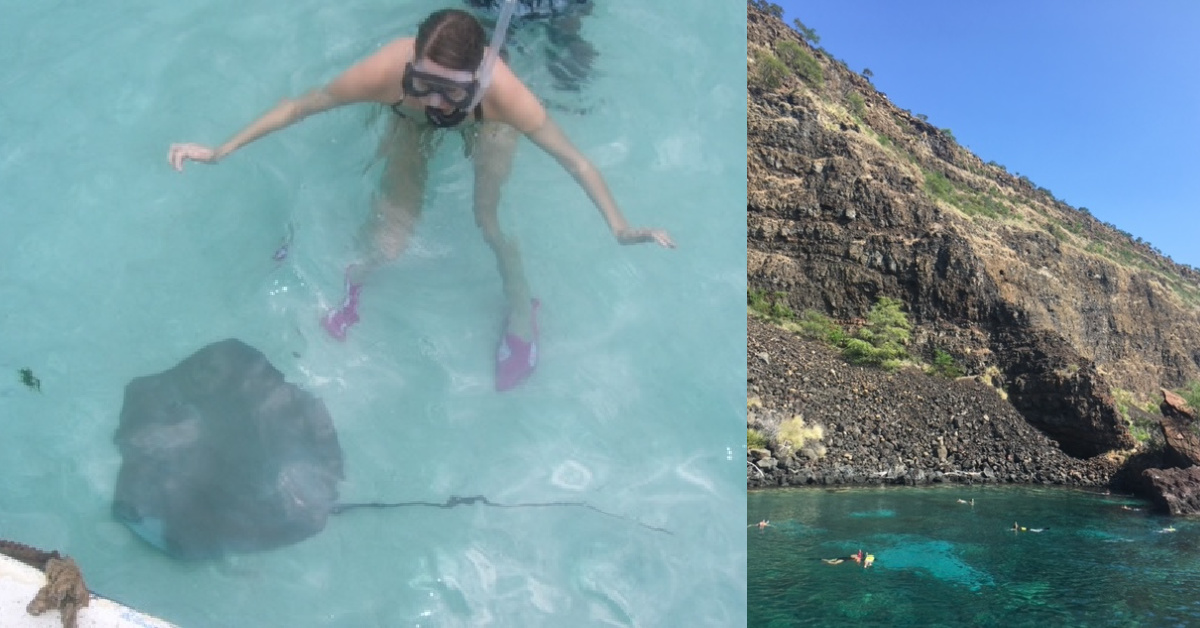 "It was scary to breathe under the water at first, but I loved looking at the world of wonder below. Time stands still when I'm snorkeling. In the 15 years since Tahiti, we've been to several places to snorkel, and it's always a new and exciting adventure."
Stacey Bartlett — Wood-burning
Client Service Associate Stacey does a little bit of everything in our Wealth Management department, including providing administrative support to two Trust Officers and clients and helping with requests related to their accounts. Stacey also does a little bit of wood-burning in her spare time; she has been engraving reclaimed wood since 2016.
"I hand-draw each image. The tool I use is like a large pen that plugs in, and it has different attachment tips to give your image different looks. I've wood-burned on spoons, frames, plaques/signs, coasters, and cutting boards."
You probably thought that people who work at a bank are just about the numbers, but it's clear that our teammates can do so much more!