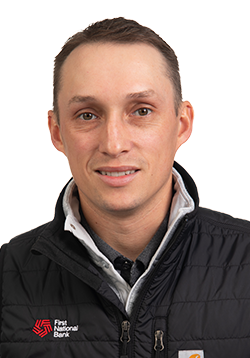 Grant Olson
Ag Banking Team Lead
The following is a story from the June 2021 edition of our First on the Farm Newsletter. 
We were excited to get Class III started back in April of 2020, but the COVID-19 pandemic threw a wrench in those plans. Session 1 was postponed until July, and we followed that up with Session 2 in August. Class III will join Class IV this August for Session 3, which is our Agribusiness Bus Tour. We recognized our Class III participants at our Cultivate Your Future event in February and wrapped up Class III with our fourth and final session on March 24.
We would like to thank Class III for overcoming the challenges that COVID-19 presented, their effort to attend each session, and for their commitment to continuing education to improve their operations. The graduates of Class III are as follows:
Jesse & Kari Anderson
Michael & Staci Feikema
Eric & Brittany Fiegen
Jess & Kim Klein
Jeff & Carrie LeBrun
Dan & Amanda Plaetz
Thaine Strom
We hosted Session 1 with Class IV on March 31. During this session we focus on financial statements, key financial ratios and how to interpret them, and why they matter. We wrap up the session with group case studies and mock loan committee meetings. During this exercise, we separate the class into two groups. Group one will present a loan request as the loan officer while group two plays the role of loan committee. We then flip the script and have group two present a loan request to group one. The mock loan committee exercise does a great job of putting into practice what we learned in Session 1, creating discussion amongst the participants, and providing the participants insight into what a typical Ag Loan Committee meeting is like at The First National Bank in Sioux Falls.
I would like to present the following individuals as Class IV of our Farmers 'N Bankers Program:
Scott Biskeborn
Jacob & Kassie Boomsma
Josh & Ashley Bonnstetter
Kara Kayser
Matt & Brittney Klein
Ty & Janilyn Klein
Rodney Koch & Maria Piacentino
Blake Kontz
Kelly Kontz
Eric & Dana Kroupa
Upcoming Farmers 'N Bankers Sessions:
– Session 2 (Class IV)
o June 23, 2021
o Establishing a Solid Marketing Plan
o Importance of Cash Flow
o Developing a break-even and utilizing all marketing tools
– Session 3 (Class III & Class IV)
o August 12-13, 2021
o Agribusiness Bus Tour
o Obtain a better understanding of the end users and suppliers of your operation
o Network with industry members and other producers.