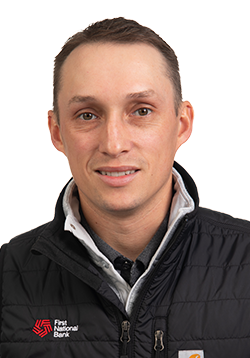 Grant Olson
Ag Banking Team Lead
The following is a story from the February 2022 edition of our First On the Farm Newsletter. 
Session Four of the Farmers 'N Bankers program was held in Sioux Falls on December 8, 2021. During this session, we had presenters from the Woltman Group and FNB Wealth Management join us to discuss topics ranging from the importance of year-end tax planning to what happens to your assets when you die.
As we all know, death and taxes are two guarantees in life, and planning for these events can be easy to move down the "To Do" list. Because of this, we wanted to give participants the opportunity to hear from industry professionals on why these topics are important and what can be done to simplify the process.
The final session for Class IV will be our Cultivate Your Future event, which will be held on February 24, 2022. During this session, we will be recognizing the following Class IV graduates:
Eric and Dana Kroupa
Jacob and Kassie Boomsma
Josh and Ashley Bonnstetter
Kara Kayser
Matt and Brittney Klein
Rodney Koch and Maria Piacentino
Scott Biskeborn
Ty and Janilyn Klein
We have begun taking applications for Class V of our Farmers 'N Bankers program. If you are interested in learning more about the program, please contact your Ag Banker, or give me a call at (605) 940-6517.