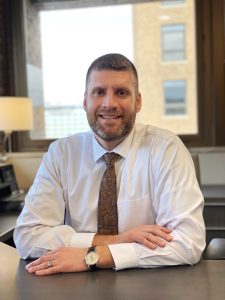 On the fourth floor of the Bank, in a corner office overlooking downtown Sioux Falls, sits Chief Wealth Management Officer Adam Cox.
When Adam isn't doing strategic planning for Wealth Management or meeting with prospective clients, he spends his time thinking about how to grow the department. That includes working on and recording his podcast, Common Cents on the Prairie™ — a podcast that now has over 10,000 downloads, including 63 downloads in India and 37 in Germany.
DOWNLOADS BY COUNTRY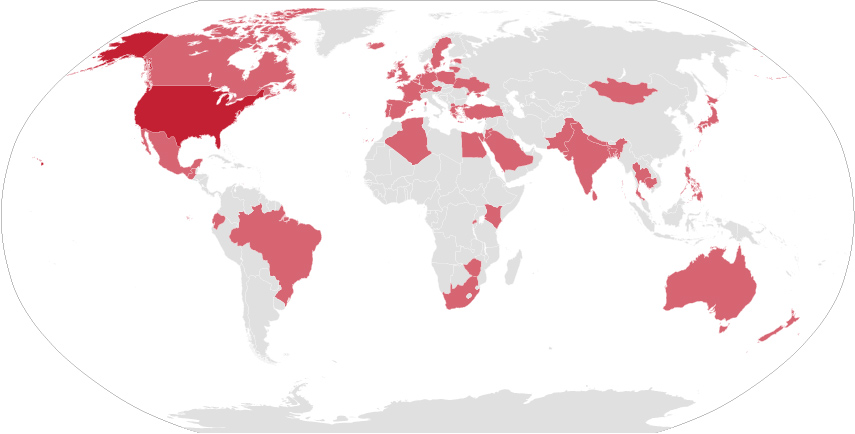 Common beginnings
So how did a born-and-raised South Dakotan at a local Sioux Falls bank reach 10,000 downloads spanning across the world in under two years?
"We're a community bank in Sioux Falls, SD," Adam said. "We're not in New York. We're not in L.A. And we're not trying to be. Our goal is to feel like we're having a meaningful conversation over coffee. We just happen to have microphones in front of us and cameras on us."
That casual tone and common-sense Midwest perspective have helped Adam to connect with listeners all over the state, country, and world to break down complicated (sometimes intentionally so) financial topics.
"The main goal of the podcast was education," Adam said. "There's so much misinformation out there about investing, product sales, and aggressive sales tactics that's meant to confuse investors."
Since day one, the purpose of the podcast has been to simplify complex money topics, and that will stay the goal for as long as the podcast continues.
But the 10,000-download milestone makes it hard to believe that this podcast almost didn't happen. Adam sat on the idea for a year before recording the first episode.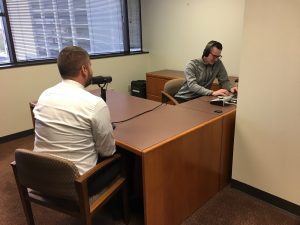 When he accepted that the podcast didn't have to be perfect right out of the gate, the top priority became noticeable improvement with each episode — something that Adam continues to accomplish, even though the first episode, "Keeping Up With The Joneses," is still the most downloaded.
That noticeable improvement, which Adam owes to the addition of reputable guests and video, led to 10,000 downloads in under two years. And, in true financial advisor fashion, Adam thinks of the growth in terms of money.
"It's like investing," Adam said. "It's compound growth. The longer you do it — the longer you have your money in — the better you get at it, and the more returns that come."
Conversations over coffee
Speaking of returns, Adam loves hearing feedback from listeners. "The Psychology of Money," featuring Morgan Housel, is the episode on which Adam receives the most feedback. It's episodes like these, which offer people a deeper look into their money habits, that make Common Cents on the Prairie such a valuable resource.
On the other hand, the episode "Money and Marriage" garnered plenty of feedback after Adam did something a little unconventional: he brought his wife, Diane, onto the podcast to discuss their own personal finances.
Especially in the Midwest, money is a bit of a taboo topic. Many consider it rude or inappropriate to talk about their finances. But Adam saw such good returns from that episode, which continues to be the third-most listened to, that he decided to do it all over again for "How We Money: Money and Marriage Pt. 2."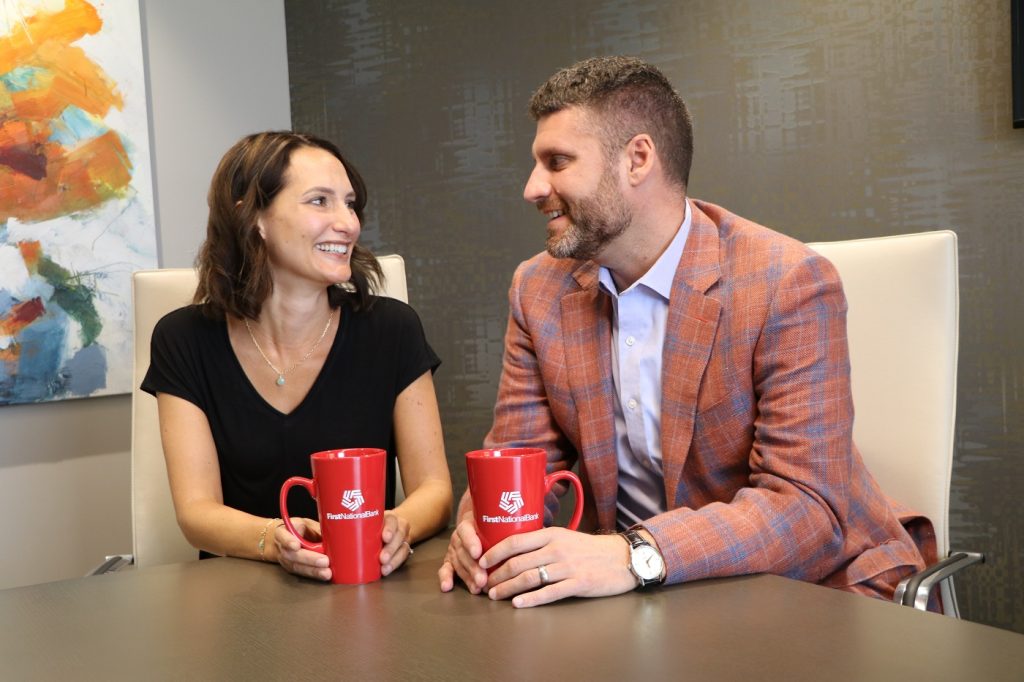 "It was probably harder for Diane to do those episodes than it was for me," Adam said. "But in the end, neither of us had any issues with talking about ourselves and our experiences with money — including the good and the bad. We are proud of what we've done, and we aren't overly secretive about it. Plus, I'm going to do more of these interviews with couples, and I thought the best way to start that is to go first."
In fact, the "How We Money" episodes are Adam's favorite to record, and he's looking forward to doing more of them.
"There's so much more to money than just the numbers," Adam said, "and to see couples talk about money and talk to each other about money is just fascinating to me. I could listen to those stories all day, every day."
A bump in the road
Of course, the podcast's success has not come without hardships.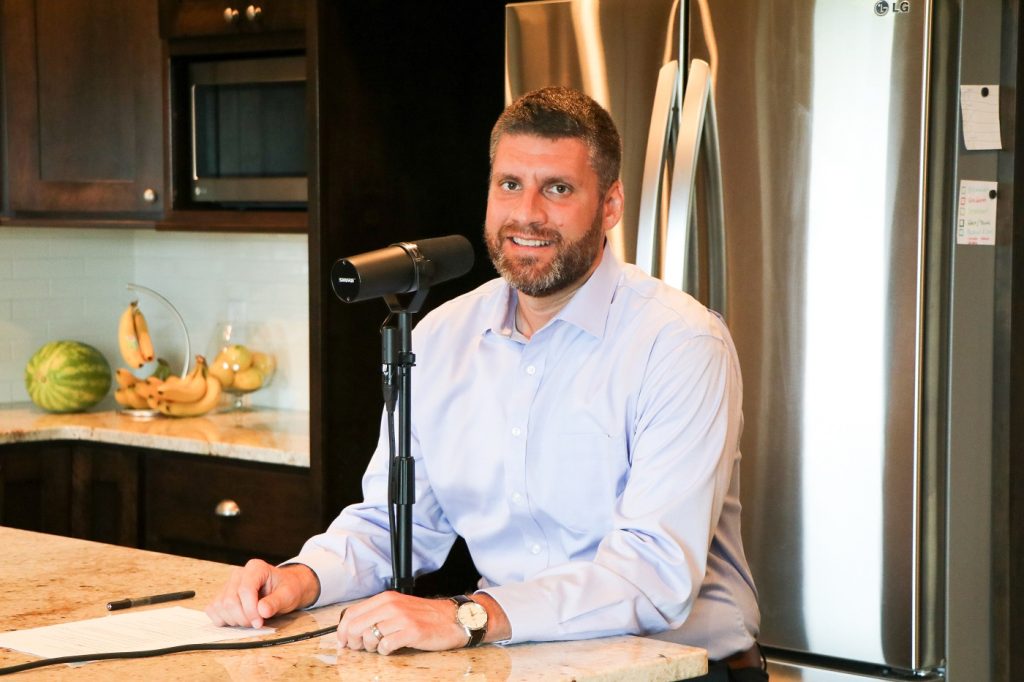 When the COVID-19 pandemic hit the U.S. in early 2020, Common Cents on the Prairie was just a few months old. Bank employees began working from home, and Adam kept working on the podcast.
Recording in his own kitchen, Adam continued to put out new episodes and even incorporated his first guest, Diane, in "Money and Marriage."
His secret to growing a podcast in the middle of a pandemic was to focus on authenticity — something many people began to crave while being shut in at home.
"I try to be as authentic on the podcast as I am in person," Adam said. "I feel like I get to get out of bed every day and do something that I absolutely love, which I know a lot of people can't say, and I hope that comes through on the show."
So, who is Adam Cox?
Although a lot of his time goes toward the podcast, Adam still has plenty of other responsibilities at First National. In his duties as Chief Wealth Management Officer, he spends the rest of his time planning for the future of the Wealth Management department, meeting with potential clients, building a best-in-class client experience, and making sure that his team is engaged and happy.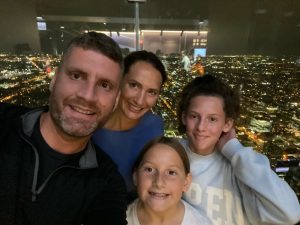 Away from the Bank, Adam is a family man.
"I have almost no hobbies," Adam said. "But I have a young family, so we like to spend a lot of time together."
But he is into music. And if you're wondering what kind, here's his answer:
"I love country music with a lot of blues: Chris Stapleton — who we recently saw in concert — Eric Church, and that kind of bluesy country. That's by far my favorite type of music."
Adam also likes to keep the podcast aligned with his Midwestern upbringing. The name itself, Common Cents on the Prairie, is a play on Laura Ingalls Wilder's Little House on the Prairie.
"I came from a farm family in South Dakota," Adam said. "I love being from South Dakota. I love the way we approach life, the way we approach work and our values, and everything else about it. I want the podcast to reflect that background."
What's next for Common Cents on the Prairie
Prior to reaching that 10,000-download milestone, Common Cents on the Prairie added video, so you can watch episodes on YouTube as well as listen to them on your favorite app! Adam is excited about this addition and how it has brought in more listeners on top of those who download the episodes.
Looking ahead to the future, Adam is focused on bringing in dynamic guests to inform viewers on a range of money-related topics, and he hopes to continue doing so for years to come. In fact, he'd like to produce this podcast for as long as he's working.
And the Bank is all in, too. The team at First National is building a dedicated studio for the podcast on the fourth floor of the Downtown branch, which is slated to be ready in early 2022.
"A few years ago, if you had told me I would spend as much time as I do on a podcast, I would've told you that you were crazy," Adam said. "But what I've learned is this: people do business with people. Putting a face and a name and a voice out in the public is critical to our ability to be a thought leader in this community. And I couldn't imagine not doing the podcast at this point!"