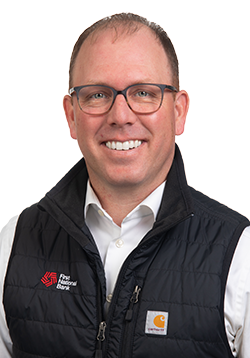 Brian Gilbert
Ag Banking Manager
When The First National Bank in Sioux Falls began in 1885, pioneering farmers came to this area for a new chance to chase their dreams as the vast South Dakota prairie awaited them. During this time – thanks to the Homestead Act – $18 could buy 160 acres of land (wouldn't that be nice?). Homesteaders like this were some of our first customers. They bet on themselves, worked hard, and got dirt under their fingers. A specific section of our customers still embody this spirit today: you, our ag customers.
The month of September marked 135 years of business for The First National Bank in Sioux Falls. As we celebrate our anniversary, we are especially thankful for our ag banking roots and how they've helped guide us in serving our customers through good times and bad. From The Great Depression to the farm crisis of the 1980s, we've been there and stood strong through it all.
The past few years have brought challenging times, especially for farmers: low prices, bad weather, and trade concerns, just to name a few.
Most recently, COVID-19 has challenged the ag industry once again. As meat packing plants closed for days, and in some cases, weeks at a time, some producers were forced to slow production as a bottleneck loomed. Even so, farmers did what was needed to protect our country's food supply.
The pandemic spotlighted that ag and food production are essential. But all of us at FNB have always known that. That's why we've been the trusted financial partner for generations of farmers like Matt Boeve, who has a cattle feedlot, crop farms, and finishes hogs near Hills, MN.
"The dynamics of farming have changed substantially in these past years," says Matt. "The Bank has given us information and opportunities to help our business grow and be financially resourceful. We are thankful to be working side by side with the First National Bank ag team to make beneficial decisions for our farming operation."
Our team is so thankful to be a part of your agribusiness. Your partnership is the reason we can celebrate such an incredible milestone like this, and we wouldn't be here today without you. Our success comes from your success.
As we celebrate our past, we are also excited about our future. We're looking forward to the next 135 years!