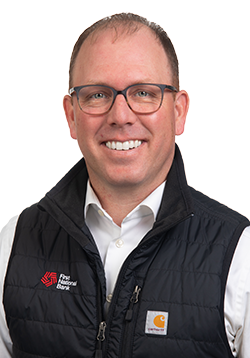 Brian Gilbert
Ag Banking Manager
It's hard to believe that we've been publishing our First on the Farm newsletter for four years now. I must admit that it feels as though we've been on a bit of a roller coaster ride. From depressed commodity markets, a pandemic, flooding concerns, drought concerns, and the like, it hasn't been easy for farmers.
All of us at First National Bank know that ag is cyclical and that there will be challenges and successes along the way. We also understand the importance of "keeping it in the family" when it comes to your farm and business, because we are a family-owned business, too. We hope you've felt that throughout the past few years and know that we'll be there no matter what. We've always been proud to say that our roots are in agriculture. Because of those roots, we've been the trusted partner for our ag customers through both good times and bad. Now, we're ready to grow and to help you do the same.
Our team continues to expand in an effort to keep up with the needs of our customer base. We have a team of 12 ag lenders serving the Brandon, Chamberlain, Dell Rapids, Flandreau, and Sioux Falls areas, along with a full-time crop insurance specialist who will help tailor solutions unique to making your operation successful. You can read more about that on page two!
We're excited that this edition of the newsletter comes with more optimism. Grain prices are at a five-year high, while hog and cattle prices are very strong as well. Feed cost and input costs are up; however, most of our producers have the potential to have a fantastic year.
As we look at the strong profit picture for 2021 and beyond, there are a few things to keep in mind. First, remember that ag continues to be a cyclical industry and keeping your working capital position and leverage in check will help your operation weather whatever is beyond the horizon. Our ag experts are here to help you through any purchases you're considering or need to make. Whether it's the quarter across the road that you've farmed for 20 years, making the decision to construct a new hog facility, or just upgrading a piece of equipment, we are here to help give you a risk-reward analysis of any purchase, big or small.
Also, the old adage rings true today more than ever: "you can't go broke taking a profit." Keep this in mind as you are making marketing decisions throughout the growing season. Remember to consult your ag banker or crop insurance specialist, as they can help take some of the emotion out of your decision by helping you analyze your breakeven on the farm and marketing your commodities accordingly.
We are excited to continue growing the FNBSF ag portfolio through a common sense, value added-type approach to ag lending. We are excited to expand our footprint in the Chamberlain market with the addition of Todd Van Den Bosch, along with growing our market share in all of the local communities we serve.
All this to say, thank you for your trust in us. We are excited for the year ahead and being a continued financial partner for you and your operation.