Working at a running store wasn't on Greg Koch's list of career plans. But when he met three brothers with a passion for running, it all changed.
Now a part-owner of 605 Running Company, Koch and his business partners, Logan, Grant, and Paul Watley, have built a successful full-service retail business. But there's more to this Phillips Ave. store than meets the eye.
It's more than just a place to buy running shoes and gear: it's a community that extends far beyond the store walls.
The son of restaurant owners meets some serious runners
Aside from being brothers, there is one thing that Logan, Grant, and Paul Watley all have in common: they love to run. Having grown up running, they were frequent customers of the Lincoln Running Company in Lincoln, Nebraska, and wanted to bring something similar to Sioux Falls.
That's when they applied for the Downtown Sioux Falls Incubator Program. Koch was involved with the program and has been active in the broader downtown business community for 19 years through his family's business, The Cookie Jar. As it turned out, 605 Running Co. was the first recipient of the program, and Koch loved their business proposal so much that he wanted to get even more involved.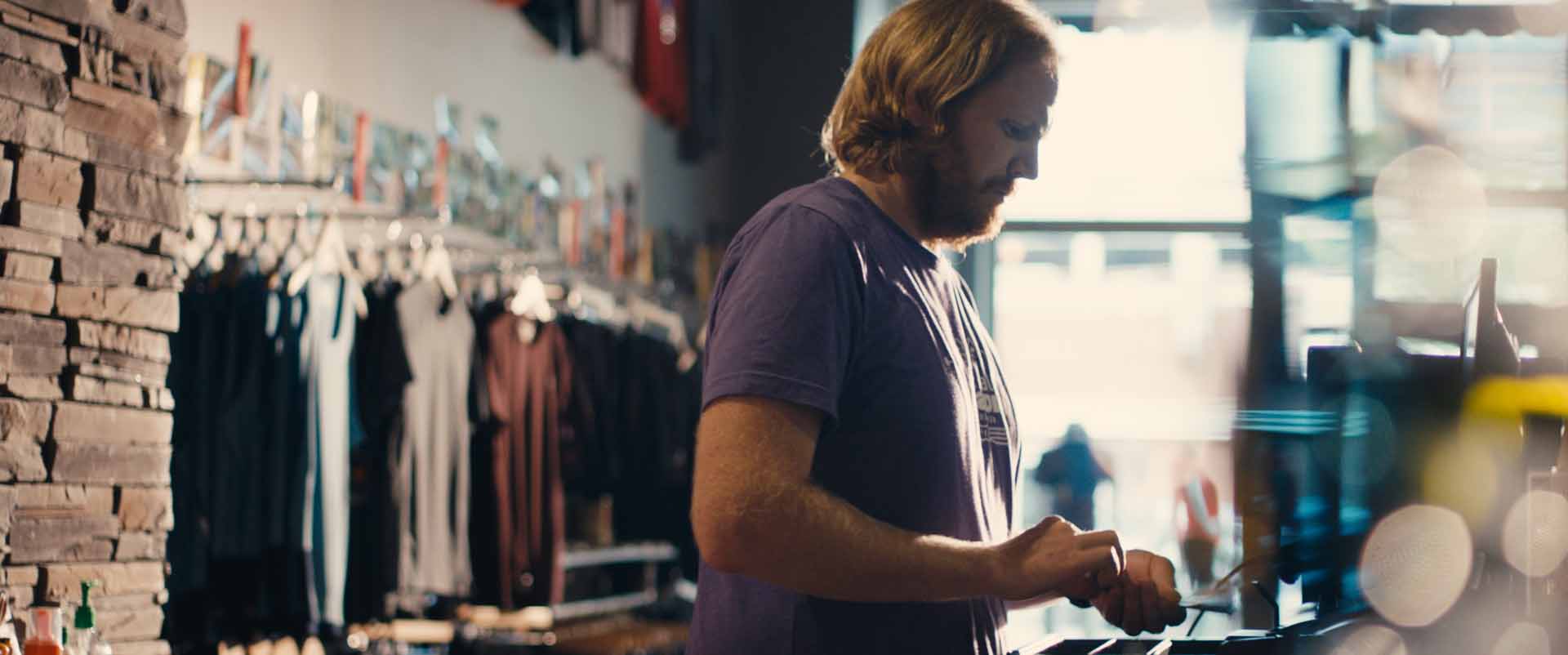 "I was not necessarily a runner at that time, I had run a half marathon, but I had always played other sports," Koch said. "I thought their business was really cool, and so I decided I wanted to work there part-time."
Within a month of working at the store, the Watleys hired him on full-time. A year and half later, he became a part-owner, and the timing couldn't have been more ideal: the business was taking off at the same time as the running movement in Sioux Falls.
"For us, we came into the Sioux Falls market in the running world at a unique time, where we have a strong running tradition and history, we just haven't been as organized," Koch said. "We were sort of in the right place at the right time to really activate a lot of that energy and bring our community together."
"I brought that into the business model for the guys with the running store, because they're very analytical business partners, which is great for me, because I'm sort of the other side of that spectrum," Koch explained. "I am the visionary; I've always got big plans and big dreams."
One of those big dreams was to hold a race: a half marathon. In the spring of 2018, they gave it a shot. The result? An annual event that now hosts up to 1,300 runners from 37 different states who come to Sioux Falls to run 13.1 miles. But the goal is to make it even bigger.
In order to bring their race to a larger scale and attract runners from all over the region, 605 realized they'd need partnerships from other businesses and organizations in Sioux Falls, which is when The First National Bank in Sioux Falls came on the scene.
A partnership committed to community
"When we approached [the Bank] specifically about Skedaddle, they were all in to support our events, and they saw a natural tie in on how being an active community with health and wellness at the forefront is really a successful community," Koch said.
That sense of improving their communities, and not to mention being right next door to each other, was what led to a natural partnership between The First National Bank in Sioux Falls and 605 Running Co. In fact, it's part of the reason why 605 moved their business banking over to FNB. Since then, they've felt all the benefits of banking with a locally owned, community bank.
"I wouldn't say we have one banker, we have like, a family at the Bank is how I would describe it," Koch said. "It really is a family. Our block, because we're right next door, is just a little community in and of itself. That's just been a natural move. It's a great partnership for us, and we've been treated well by everyone at the Bank."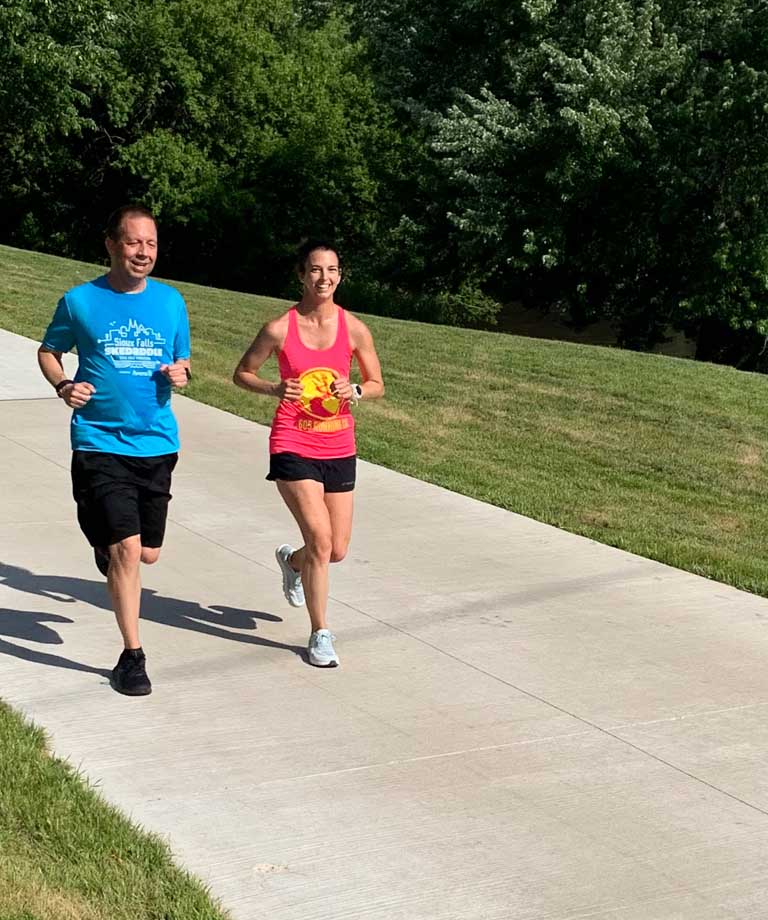 One member of that family is FNB's senior auditor Tony Goettsch. He's been an avid runner since 2013, and not only has he found some of his favorite running shoes at 605 Running Co., but he's participated in all three Skedaddle half marathons, and is looking forward to this year's race. Maybe just as exciting for Goettsch is the fact that FNB is one of the lead sponsors of the event.
"I was super excited when I found out the Bank is a sponsor of Skedaddle!" he said. "It's nice to know they're supporting a race that I am participating in, and also that they're supporting one of our downtown business neighbors."
The Skedaddle Half Marathon and 60.5 Wellness Expo
After going virtual in 2020, the Sioux Falls Skedaddle is back to in-person for 2021. While the race crew at 605 has done extensive planning for health and safety protocols, that's not the only thing different about this year's race. It's a two-day event being held April 24-25, and it's more than just a race.
"Runners in their races tend to be a little on the selfish side," Koch explained. "If I sign up for a marathon, that whole weekend's all about me. Like, I've trained for 20 weeks for this and this is the culmination. This is a celebration of me, me, me."
605 wanted to flip that script and get runners' families involved too. They've added the 60.5 Move Expo to the race festivities, and it's all about the whole family being active.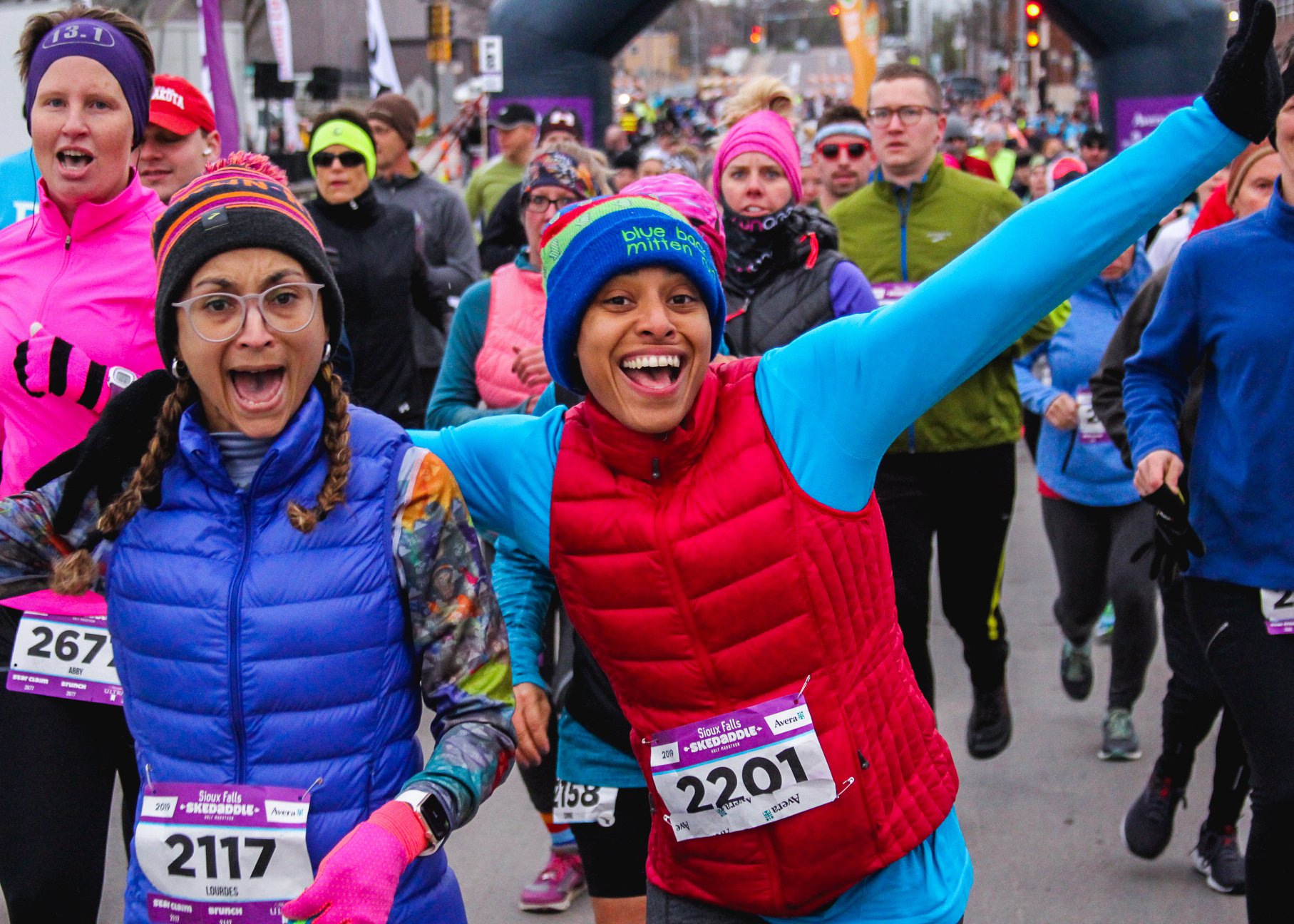 "Saturday, we've got the 60.5 Move Expo," Koch explained. "This is where runners traditionally will come, they get their race bib, and they get all their final instructions for race morning. We have health and wellness vendors coming. Really, the idea is to get 60.5 minutes of activity at the expo. So, we're going to have activities for kids: we're going to have yoga, Pilates, fit classes, demonstrations on different types of activity that families can do together at the expo."
Regardless of running ability, 605 has running gear, private coaching, and race experiences for all, including during the Skedaddle weekend.
"We really have a lot of cool things happening," Koch explained. "We've got a first-time runner experience going on where we're really targeting those first-time runners, all the way up to an elite field."
That elite field so happens to include four previous Olympic trial qualifiers in the marathon.
"We really cover that whole spectrum and we really do believe that our sport is inclusive to everyone and so, never say never," Koch said. "If you hang out with us long enough, you could find yourself doing a half marathon."
For more information about the Sioux Falls Skedaddle or the 60.5 Move Expo, visit their website.