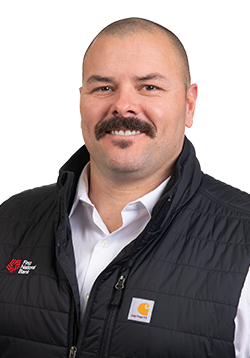 Josh Kayser
Ag Banker
The following is a story from the March 2021 edition of our First on the Farm newsletter.
On Thursday, February 11, we were fortunate enough to hold our Cultivate Your Future event at the Hilton Garden Inn in Sioux Falls. It was great to safely gather in person with our customers again and have a chance to reconnect over some continuing education. Headlining the event for the 12th consecutive year was Jeff Beal. Jeff continues to deliver a wonderful presentation that covers all aspects of our commodity markets: from world macroeconomics to government policy to technical chart trading.
The bulk of the presentation was centered on the changing political climate in the United States with a brand new administration in the White House. The main takeaway being: be ready for changes. The Trump administration pulled out of many of the multination trade agreements and attempted to orchestrate mainly bilateral trade agreements, whereas the Biden administration will likely look at re-entering those multinational trade agreements. The main trade agreement that needs to be monitored is the Trans Pacific Partnership (TPP). If the U.S. re-enters that agreement, what effect does that have on tariffs and trade rhetoric with China? The TPP has been seen as favorable to the livestock markets but needs to be watched carefully as we move forward.
Jeff also shared that the other main target to be watchful of is the spring acreage battle for corn and soybeans. Big changes in ending stocks due to increased exports, below trendline yields, and adjustments made by the USDA have tightened the carryout for corn and soybeans. As we move closer to spring, if exports continue to be strong or issues arise in the South American crop, the battle for U.S. acreage should give way to some higher prices for 2021-22 crops. Conversely, be prepared for the rally to quiet if South America harvests a larger than expected crop.
The advice from Jeff, as always, is to know your operation's breakevens. If prices are profitable for your operation, then be looking to make sales on old crop and new crop. Be prepared to take advantage of any new crop rally or be ready to protect yourself for a downturn.