By: Prairie Family Business Association
A bank doesn't reach 136 years old without learning to evolve, transition, and plan for the future.
So it's probably not surprising that the Baker family of The First National Bank in Sioux Falls became early members of the state's first and only association dedicated specifically to supporting family businesses.
"From very early in our history, the Baker family has been engaged and involved in connecting with and supporting other family businesses while working on positioning their own for decades of continued success," said Stephanie Larscheid, executive director of the Prairie Family Business Association.
First chartered in 1885 as Minnehaha National Bank, the Bank's fourth- and fifth-generation members recently reflected with us on how they're continuing to evolve and strengthen the culture behind their success.
What are some of your early memories of the original Sons of Bosses group, now Prairie Family Business Association? How did you get connected to it?
Bill Baker: As the oldest of the fourth generation, I was the first to get involved after my father brought the group to my attention. By then — about 1985 — the founders had updated the brand, so we were the South Dakota Family Business Council instead of the Sons of Bosses.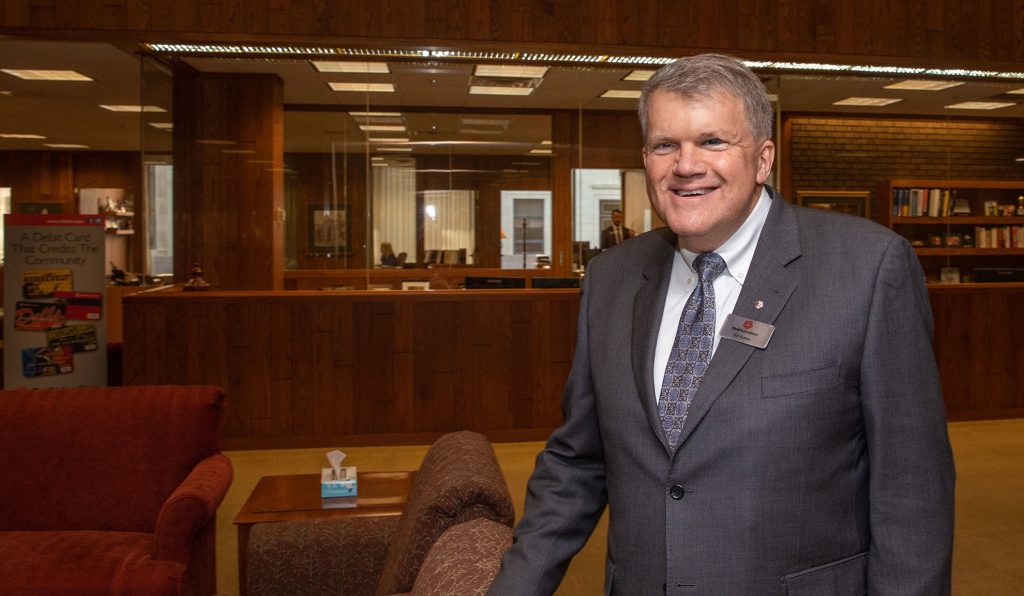 It was an all-volunteer group, and activities revolved around regular board meetings and programs for the membership. My earliest memory is of attending a board meeting at Howalt-McDowell, hosted by Jeff Scherschligt, who was the group's president at the time.
What were those early sessions like?
Bill Baker: Early programs tended to focus on member "spotlights," usually a tour of a member's family business, coupled with a dinner at a local restaurant or one of the country clubs. Attorneys, CPAs, and other estate-planning professionals were frequent dinner presenters on the legal and tax aspects of successfully transitioning the ownership of your family business.
The art and science of family business transitions was, however, still in its infancy, and established speakers on the important topic of generational leadership (as opposed to ownership) transitioning were harder to find. During election season, we hosted candidate debates amongst gubernatorial or statewide candidates for the U.S. Senate and House of Representatives. SDFBC also had a healthy social component, with annual summer and holiday season parties. We were a young group of about 50 to 60 member family businesses, about half of which were active.
In the years that followed, have you continually been part of the family business organization as it evolved? Over the years, what value have you found in connecting to it?
Bill Baker: Thankfully, in about 1990, the USD School of Business received a major private grant to promote the vitality of family business across the state. I received a call from Dean Jerry Johnson, who invited me to meet Tim Habbershon, who would become the first paid professional to lead the group. I think Tim was in a doctorate business program at USD at the time, with degrees in counseling and divinity already to his credit. Tim proved to be a perfect pick to transition the SDFBC from a local Sioux Falls-area all-volunteer group to a professionally led statewide organization.
Membership swelled to over 100. We became the South Dakota Family Business Initiative, operating as a major-grant funded outreach initiative under the USD School of Business umbrella. Given his background, Tim focused not on the legal/tax/accounting aspects of family business transitions, but rather on the family dynamic and leadership aspects — a focus that was missing in earlier SDFBC programming.
Two years ago, Bill Baker officially transitioned the CEO role to a nonfamily member, Chris Ekstrum, after a very intentional transition. Looking back, are there things you did that helped or anything you did that you might do differently if you could go back?
Bill Baker:  Yes, Chris and I took a very intentional approach to the transition, starting with Chris' election by the board to the FNB presidency in August 2016, well before my announced retirement date on Dec. 31, 2019, and leaning heavily on our extraordinary corps of outside independent FNB board members.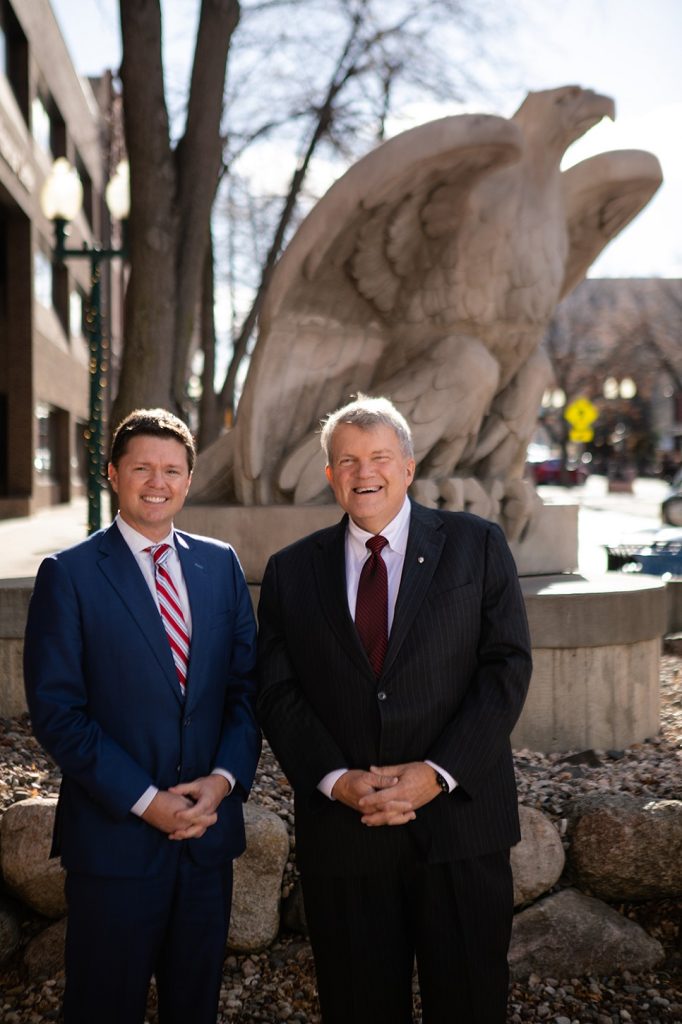 We also enlisted the guidance of a Minneapolis-based leadership consulting firm experienced in bringing structure to organizational transitions. I highly recommend to family businesses anticipating leadership transition to get experienced, competent outside help. Chris is doing a wonderful job! I wouldn't change a thing.
Chris Ekstrum: I can't think of anything I would do differently. One of the best decisions we made was to engage a third-party consulting group to help us navigate the transition. I highly recommend a competent consultant to help manage a leadership transition; having an experienced guide can be invaluable.
Other members of the Baker family continue to evolve their roles within the family business. How does that look today?
Bob Baker: I have transitioned out of business banking and now serve as senior vice president and director of corporate affairs. I am a member of the Bank's executive team and focus my time within the Bank's holding company, Minnehaha Banshares Inc.; the Bank's main real estate holding company, Minnehaha Properties Inc.; and overseeing the Bank's charitable work. We also have a family business partner, the Kuehn family, that continues to be involved in the business. While they no longer have family members involved in the day-to-day operations of the Bank, they remain active as shareholders, with Kristina Kuehn and Andrea Kuehn serving on the Bank's holding company board of directors.
Maggie Groteluschen: I am managing the personal wealth division of our Wealth Management department. My team works with clients to ensure their individual wealth accumulation and financial objectives are being met. Our services include financial and retirement planning, investing, personal trust administration and estate settlement. I continue to attend the Prairie Family Business Association annual conference and have enjoyed the opportunity to network and learn from other families.
Your family utilizes a family council in assisting with your governance. How is that structured, and why is it effective for you? 
Bob Baker: We have just started the process of forming a Family Ownership Council within the last two years. The FOC has a balanced representation of nonemployee family members from each family line. The FOC has helped to set agendas for annual family meetings as well as help to select new family business consultants to help perpetuate the family legacy.
The median age of your fifth generation is 19, so what are you doing to help integrate them into the business? How are you handling their interest in working there, if they have it? Or how would you describe the potential for a sixth generation to enter the business?
Maggie Groteluschen: For those a little older in G5, we have been keeping them apprised of FNB happenings via a quarterly shareholder connections newsletter where we share news relating to teammate milestones — promotions, years of service, retirements, etc. — Bank volunteering events and wellbeing initiatives, charitable contributions the Bank is making, our current building renovation project and any other info they may find interesting. We have also brought some of our G5 college students in for job-shadowing days and summer internships so they can get a feel for the culture of the Bank and learn about different career paths available here. One of my fondest memories was a job shadow day my dad (Bill) lined up for me while I was in college, where I met with women in leadership roles all across the organization. It was an awesome way for me to get an idea of the different opportunities available should I choose to pursue a career at FNB, which I ultimately did.
Culture has always been at the forefront of FNB as an organization. How are you helping nurture that in your up-and-coming family leaders?
Stephanie Gongopoulos: Over time, the values of the Baker and Kuehn families have become the values of the business. The Bank's culture revolves around those values which we call our FIRST Values:
F – Family
I – Independence and Innovation
R – Relationships
S – Stewardship
T – Teamwork
We have been engaging the next generation by focusing on our values. For example, some of the fifth-generation family members don't know each other that well due to age and geographical differences, so we decided to work on the Family, Relationships, and Stewardship values by giving each fifth-generation family member $100 to donate to a charitable cause of their choice. The only caveat was that they had to share with the group where they donated the money and why that cause was important to them. It was a fun way for them to build relationships with one another as they researched charitable causes and experienced stewardship firsthand.
What has 2021 been like from the Bank's standpoint? What have been some of the highlights, and what are you anticipating will be key in the coming year?
Chris Ekstrum: 2020 and 2021 seem like they blended. Of course, our construction project has created logistical obstacles for our teammates, but everyone has been understanding, and we are all excited about our new work environment.
For the most part, our economy is strong, and our customers are doing well. All of our business lines enjoyed an excellent year in 2021. A sign of our local prosperity is the significant growth in our Wealth Management department. Additionally, improved agricultural commodity prices are helping our producers and the businesses and communities that serve the agricultural industry. While most companies are doing well, workforce scarcity and supply chain issues are causing stress for many businesses. That said, the positives far outpace the challenges for Sioux Falls and surrounding communities. I am very optimistic about 2022.
What would you say to other families considering connecting with the Prairie Family Business Association?
Bob Baker: The PFBA is a great way to meet other family businesses from across the Upper Midwest. No matter your size or if you're a second-generation or fifth-generation business, we all run into similar ownership situations and dynamics, and we can learn from each other.