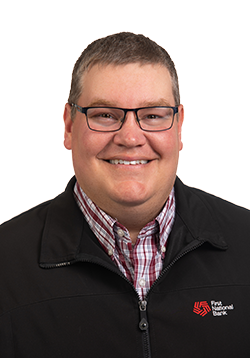 Tyler Urban
Crop Insurance Specialist
The following is a story from the February 2022 edition of our First On the Farm Newsletter. 
If there is one positive of some of these cold winter days, it is that they likely push farmers to work in the office versus doing something perhaps more enjoyable outside. This winter, as farmers have been reviewing seed and fertilizer orders and updating balance sheets, and doing year-end taxes, I would say that the mood has been quite optimistic for most. I know I enjoyed updating my balance sheet this year more than other years. A big reason for this optimism last year and going into this year? Crop insurance!
Last spring, we had insurance guarantee prices set at $4.58 for corn and $11.87 for soybeans, which were the highest prices we had for several years. Those prices allowed producers to lock in pretty high coverages that, in certain cases, may have insured a profit, so when the summer turned hot and dry, the stress factor likely wasn't as high as it could have been if we had low insurance prices. I carried a high coverage level on my farm last year to take some risk off the table. By July 4, I fully anticipated not needing to get the combine out of the shed, but I knew I had enough crop insurance coverage to allow me to farm in 2022.
Presently, spring crop insurance prices could be even higher; as of February 7, the spring price for corn is $5.75, and soybeans are $13.95 (subject to change). These strong prices could provide a significant amount of coverage and potentially lock in some profits for farmers, even with much higher fertilizer, chemical, and fuel costs. Now is the time to review those coverage levels and look at paying more for the higher coverages to lock in these high-guarantee levels. Some other crop insurance products on the market are based on county levels of production and are not specific to one's own operation. With prices this high, I would stay away from county crop insurance products and spend those dollars on insurance specific to my own farm.
I would be happy to meet with anyone to further discuss some crop insurance options. Insurance sales season ends on March 15, which is also when farm program signup elections are due at the FSA offices. If you need help deciding between Agriculture Risk Coverage (ARC-CO or ARC-IC) or Price Loss Coverage (PLC), I would be happy to help. Feel free to contact me at (605) 940-0896. I hope everyone has a great rest of winter and spring.