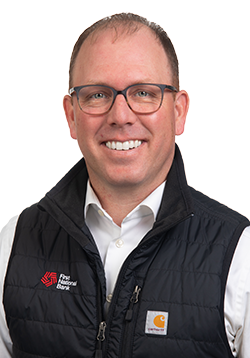 Brian Gilbert
Ag Banking Manager
The weather continues to be grinding planting season to a halt in a large portion of the Corn Belt. We understand the issues this is and will be creating for our customer base and their neighbors in our trade area. This is one of the reasons why The First National Bank in Sioux Falls has a dedicated team member, Tyler Urban, whose sole focus is on protecting your farm through the crop insurance we provide. Whether you are a First Ag Risk Management customer or not, please feel free to contact Tyler at any time, as he'd be glad to walk you through the best options for your operation.
Don't be afraid to ask the questions as you may learn something to help your operation this year or in the future. In the spirit of surrounding yourself with experts, our Ag team continues to leverage our Ag Advisory Board to ask for ways the Bank can improve our products and services and advocate for Ag producers. Our Ag Advisory board is made up of producers and Agri-Business owners that encompass all sectors of Agriculture. Our next meeting will be with the South Dakota Secretary of Agriculture, Kim Vanneman, which will be fruitful for our group, our customers, and hopefully our state policymakers.
In my recent travels, I've spent some time in Washington DC with our SD delegates, and they certainly understand the issues farmers are facing. We have obvious headwinds in making any changes in Washington DC; however, the more they hear from those of us concerned about the difficult times we are facing in Ag, the more our policymakers will work toward solutions that can provide much needed aide and policy changes that will help our industry in the long run.
As the calendar turns toward summer, there appears to be some opportunities to lock in a profit in the grain market for 2019 and 2020 while utilizing storage facilities to take advantage of some carry in the market. While the market may not be set up for any home runs at the moment, I'm a firm believer in the old saying, "you don't go broke taking a profit." With that in mind, work with your marketing firm, crop insurance agent, and Ag banking professional at FNB to take advantage of all opportunities as they present themselves.
The same can be said for the livestock sector, while the markets have not presented any huge runaway profit opportunities, there have been several opportunities to lock in profits. Your Ag Banking team at The First National Bank in Sioux Falls understands the importance of price protection, and we will work with you to ensure your operation's long term viability.
Feature: Lindsey Schoeberl
We are excited to introduce our new
Flandreau Ag Administrative Assistant, Lindsey Schoeberl. Lindsey joins the Ag team with more than 14 years of Ag banking experience, ranging from assistant, credit analyst and lender. She's excited for the opportunity to work at a bank right in her backyard that has a strong family and community focus. Lindsey resides on an acreage outside of Flandreau with her husband, Corey, and 2 children – Carter and Abby. In her spare time, she enjoys gardening and camping with family and friends.
Read the full version by clicking the red box above.